Virtual Offering Plate
Free E-mail Bible Study

Disciple's Guide to the Holy Spirit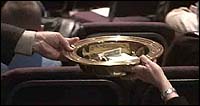 God's people have a tradition of passing the offering plate to give towards the work of the Kingdom of God and provide for the work of ministry.
Please give as God has blessed you. "Not grudgingly, nor of necessity, for God loves a cheerful giver." This is between you and God. If you can't give monetarily this time around, give your heart to God in a special way in prayer. This isn't about money, but about thankfulness.
If you aren't able to give right now please don't feel guilty! Your first obligation is to give to your local church, not to any other ministry. These Bible studies are offered free of charge so that you can learn without any barriers or obligations.
If you're from a third world country and find it impossible to give online, no problem. Please give something to the poor where you are as an offering to the Lord. That will be a blessing to them and to the Lord's heart.
Why should you give? Your donations to Joyful Heart Renewal Ministries make it possible for us to continue to provide online Bible studies for participants around the world. Thank you for your thoughtfulness. In addition consider two Scripture passages:
"The laborer is worthy of his hire" (Luke 10:7)
"Anyone who receives instruction in the word must share all good things with his instructor" (Galatians 6:6).
Your donations are not tax-deductible. At this point income from this ministry hasn't been enough to warrant the paperwork and expense involved in setting up a non-profit organization, but be assured that you donations go toward meeting the expenses of the work of the Lord through this ministry.
Offering
You may make donations by check to:
Dr. Ralph F. Wilson
Joyful Heart Renewal Ministries
P.O. Box 565
Loomis, California 95650, USA
Or you can make an offering via credit card or PayPal online on our secure server. Our online system goes through Wilson Internet Services.
Thank you for your donation.
In Christ,
Pastor Ralph F. Wilson
Director, Joyful Heart Renewal Ministries
Copy Pricing Fees
If you're making a contribution for copies of e-books you've made under my copy pricing policy, please pay using this link:
Reprint License, $2.50. Once you've ordered this item, set quantity field for the number of reprints you plan to make and click on "recalculate." One license is required for each additional copy you make beyond the initial book you purchased. This reprint license prohibits sale of the book to individuals outside your local area or congregation.
Copyright © 2018, Ralph F. Wilson. <pastor

joyfulheart.com> All rights reserved. A single copy of this article is free. Do not put this on a website. See legal, copyright, and reprint information.