Watching Holy Week Unfold
with paintings by French painter James Jacques Tissot (1836-1902)
Holy Week
Palm Sunday
Monday
Tuesday
Wednesday
Maundy Thursday
Last Supper
The Garden
Good Friday
Chief Priests
Pilate and Herod
Via Dolorosa
Crucifixion
Death
Burial
Easter Sunday
Resurrection
Appearances
Good Friday, Easter, and Holy Week articles and short stories
The Accursed Fig Tree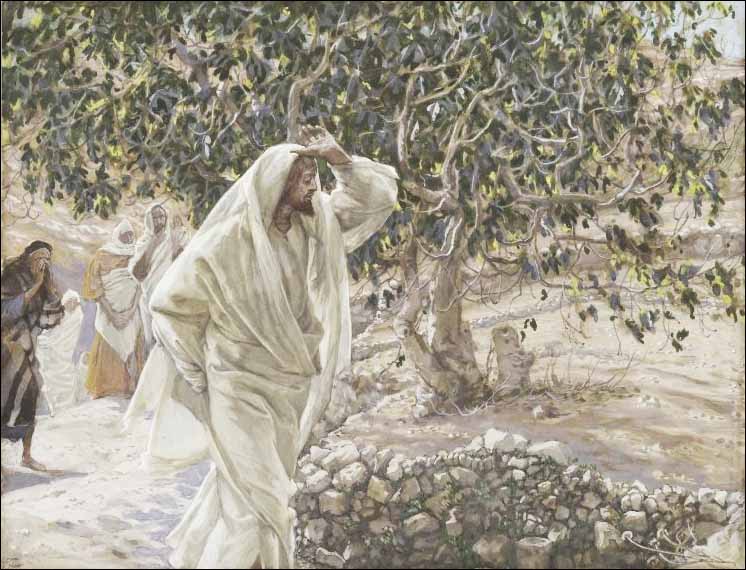 12
The next day as they were leaving Bethany, Jesus was hungry.
13
Seeing in the distance a fig tree in leaf, he went to find out if it had any fruit. When he reached it, he found nothing but leaves, because it was not the season for figs.
14
Then he said to the tree, "May no one ever eat fruit from you again." And his disciples heard him say it.
Mark 11:12-14
19 When evening came, they went out of the city.
20 In the morning, as they went along, they saw the fig tree withered from the roots. 21 Peter remembered and said to Jesus, "Rabbi, look! The fig tree you cursed has withered!" 22 "Have faith in God," Jesus answered. 23 "I tell you the truth, if anyone says to this mountain, 'Go, throw yourself into the sea,' and does not doubt in his heart but believes that what he says will happen, it will be done for him. 24 Therefore I tell you, whatever you ask for in prayer, believe that you have received it, and it will be yours. 25 And when you stand praying, if you hold anything against anyone, forgive him, so that your Father in heaven may forgive you your sins." Mark 11:19-25


Paintings by by James Jacques Tissot (French painter and illustrator, 1836-1902). Biography. Nearly all of Tissot's paintings of the Life of Christ (1884-1896) are rendered in opaque watercolor over graphite on gray wove paper and are owned by the Brooklyn Museum, New York.
Copyright © 1985-2012, Ralph F. Wilson. <pastor

joyfulheart.com> All rights reserved. A single copy of this article is free. Do not put this on a website. See legal, copyright, and reprint information.