Watching Holy Week Unfold
with paintings by French painter James Jacques Tissot (1836-1902)
Holy Week
Palm Sunday
Monday
Tuesday
Wednesday
Maundy Thursday
Last Supper
The Garden
Good Friday
Chief Priests
Pilate and Herod
Via Dolorosa
Crucifixion
Death
Burial
Easter Sunday
Resurrection
Appearances
Good Friday, Easter, and Holy Week articles and short stories
Good Friday: Via Dolorosa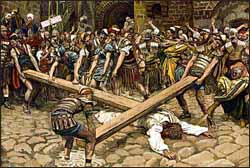 James J. Tissot, 'Simon of Cyrene Is Compelled to Bear the Cross' (1896), Brooklyn Museum, watercolor.
Larger image
.
View each painting by clicking on the arrow to the right.
* Omitted from slide sequence
The numbers of the pictures are from a catalog of an exposition of these paintings at the Art Institute of Chicago, January 26-February 23, 1899. Good images of most of Tissot's paintings of the Gospels are now available for viewing on the Brooklyn Museum website.
Paintings by by James Jacques Tissot (French painter and illustrator, 1836-1902). Biography. Nearly all of Tissot's paintings of the Life of Christ (1884-1896) are rendered in opaque watercolor over graphite on gray wove paper and are owned by the Brooklyn Museum, New York.
Christian Art and Paintings: Abraham Art | Agnus Dei Art | Angel Art | Annunciation Art | Celtic Stone Cross Art | Christian Symbols and Art | Christmas Art | David | Easter Art | Elijah | Passion of Christ by Tissot | Gideon | Hebrew-Jewish Art | Holy Week Art | Jacob | Jesus' Ministry Art | Jesus' Teaching Art | Jesus Portraits and Art | John the Baptist | John the Apostle | Lamb of God Art | Last Supper Art | Madonna & Child Art | Moses and the Exodus | Names of God Art | OT Misc Art | Psalms Art | Palm Sunday Art | Paul Art and Paintings | Day of Pentecost Art | Peter Art and Paintings | Prayer Art | Resurrection Art | Revelation Art | Solomon |Thanksgiving and Pilgrims Art | Timothy Art and Paintings
Copyright of artwork. Much, but not all, of the artwork linked to on this site is in the public domain worldwide due to the date of death of its author (if it is was published outside of the U.S. and the author has been dead for over 70 years), or due to its date of publication (if it was first made public in the U.S. before 1923), at least in the United States (see Bridgeman Art Library v. Corel Corp.), in Germany, and in many other countries.
Copyright © 1985-2012, Ralph F. Wilson. <pastor

joyfulheart.com> All rights reserved. A single copy of this article is free. Do not put this on a website. See legal, copyright, and reprint information.