Watching Holy Week Unfold
with paintings by French painter James Jacques Tissot (1836-1902)
Holy Week
Palm Sunday
Monday
Tuesday
Wednesday
Maundy Thursday
Last Supper
The Garden
Good Friday
Chief Priests
Pilate and Herod
Via Dolorosa
Crucifixion
Death
Burial
Easter Sunday
Resurrection
Appearances
Good Friday, Easter, and Holy Week articles and short stories
The Appearance of Christ in the Upper Room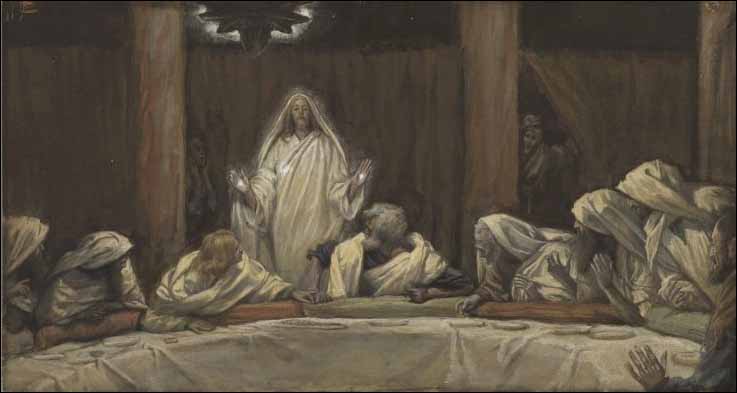 19
On the evening of that first day of the week, when the disciples were together, with the doors locked for fear of the Jews, Jesus came and stood among them and said, "Peace be with you!"
20
After he said this, he showed them his hands and side. The disciples were overjoyed when they saw the Lord.
John 20:19-20
Later Jesus appeared to the Eleven as they were eating; he rebuked them for their lack of faith and their stubborn refusal to believe those who had seen him after he had risen.
Mark 16:14
33b the Eleven and those with them, assembled together.... 36 Jesus himself stood among them and said to them, "Peace be with you." 37 They were startled and frightened, thinking they saw a ghost.
38 He said to them, "Why are you troubled, and why do doubts rise in your minds? 39 Look at my hands and my feet. It is I myself! Touch me and see; a ghost does not have flesh and bones, as you see I have."
40 When he had said this, he showed them his hands and feet. 41 And while they still did not believe it because of joy and amazement, he asked them, "Do you have anything here to eat?" 42 They gave him a piece of broiled fish, 43 and he took it and ate it in their presence.
44 He said to them, "This is what I told you while I was still with you: Everything must be fulfilled that is written about me in the Law of Moses, the Prophets and the Psalms." 45 Then he opened their minds so they could understand the Scriptures.
46 He told them, "This is what is written: The Christ will suffer and rise from the dead on the third day, 47 and repentance and forgiveness of sins will be preached in his name to all nations, beginning at Jerusalem. 48 You are witnesses of these things. 49 I am going to send you what my Father has promised; but stay in the city until you have been clothed with power from on high."
Luke 24:33, 36-49
Paintings by by James Jacques Tissot (French painter and illustrator, 1836-1902). Biography. Nearly all of Tissot's paintings of the Life of Christ (1884-1896) are rendered in opaque watercolor over graphite on gray wove paper and are owned by the Brooklyn Museum, New York.
Copyright © 1985-2012, Ralph F. Wilson. <pastor

joyfulheart.com> All rights reserved. A single copy of this article is free. Do not put this on a website. See legal, copyright, and reprint information.