Watching Holy Week Unfold
with paintings by French painter James Jacques Tissot (1836-1902)
Holy Week
Palm Sunday
Monday
Tuesday
Wednesday
Maundy Thursday
Last Supper
The Garden
Good Friday
Chief Priests
Pilate and Herod
Via Dolorosa
Crucifixion
Death
Burial
Easter Sunday
Resurrection
Appearances
Good Friday, Easter, and Holy Week articles and short stories
He Vanished from their Sight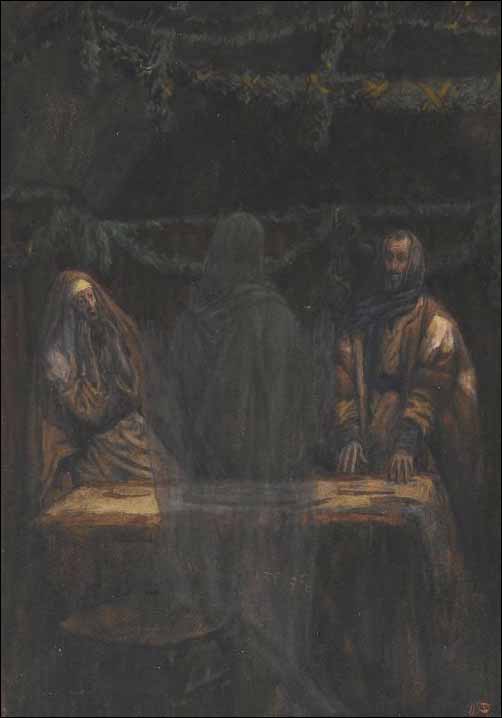 30
When he was at the table with them, he took bread, gave thanks, broke it and began to give it to them.
31
Then their eyes were opened and they recognized him, and he disappeared from their sight.
32 They asked each other, "Were not our hearts burning within us while he talked with us on the road and opened the Scriptures to us?"
33 They got up and returned at once to Jerusalem. There they found the Eleven and those with them, assembled together 34 and saying, "It is true! The Lord has risen and has appeared to Simon." 35 Then the two told what had happened on the way, and how Jesus was recognized by them when he broke the bread.
Luke 24:30-35
12
Afterward Jesus appeared in a different form to two of them while they were walking in the country.
13
These returned and reported it to the rest; but they did not believe them either.
Mark 16:12-13
Paintings by by James Jacques Tissot (French painter and illustrator, 1836-1902). Biography. Nearly all of Tissot's paintings of the Life of Christ (1884-1896) are rendered in opaque watercolor over graphite on gray wove paper and are owned by the Brooklyn Museum, New York.
Copyright © 1985-2012, Ralph F. Wilson. <pastor

joyfulheart.com> All rights reserved. A single copy of this article is free. Do not put this on a website. See legal, copyright, and reprint information.