Watching Holy Week Unfold
with paintings by French painter James Jacques Tissot (1836-1902)
Holy Week
Palm Sunday
Monday
Tuesday
Wednesday
Maundy Thursday
Last Supper
The Garden
Good Friday
Chief Priests
Pilate and Herod
Via Dolorosa
Crucifixion
Death
Burial
Easter Sunday
Resurrection
Appearances
Good Friday, Easter, and Holy Week articles and short stories
The Last Supper: Judas dipping his hand in the dish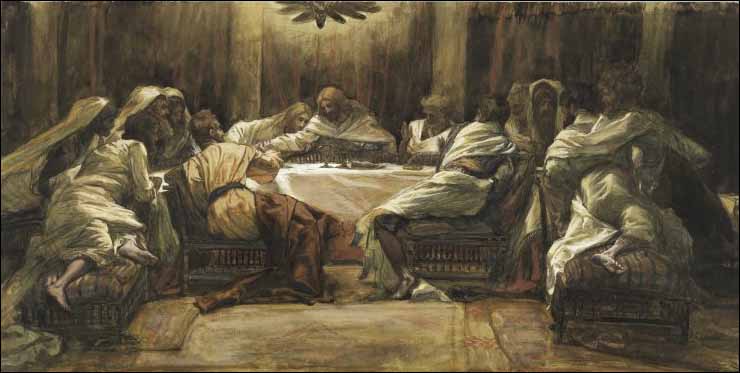 18
"I am not referring to all of you; I know those I have chosen. But this is to fulfill the scripture:
'He who shares
my bread has
lifted up his
heel against me.'
19 "I am telling you now before it happens, so that when it does happen you will believe that I am He. 20 I tell you the truth, whoever accepts anyone I send accepts me; and whoever accepts me accepts the one who sent me."

21 After he had said this, Jesus was troubled in spirit and testified, "I tell you the truth, one of you is going to betray me."
22 His disciples stared at one another, at a loss to know which of them he meant. 23 One of them, the disciple whom Jesus loved, was reclining next to him. 24 Simon Peter motioned to this disciple and said, "Ask him which one he means."
25 Leaning back against Jesus, he asked him, "Lord, who is it?"
26 Jesus answered, "It is the one to whom I will give this piece of bread when I have dipped it in the dish." Then, dipping the piece of bread, he gave it to Judas Iscariot, son of Simon. 27 As soon as Judas took the bread, Satan entered into him. "What you are about to do, do quickly," Jesus told him.
John 13:18-27
Paintings by by James Jacques Tissot (French painter and illustrator, 1836-1902). Biography. Nearly all of Tissot's paintings of the Life of Christ (1884-1896) are rendered in opaque watercolor over graphite on gray wove paper and are owned by the Brooklyn Museum, New York.
Copyright © 1985-2012, Ralph F. Wilson. <pastor

joyfulheart.com> All rights reserved. A single copy of this article is free. Do not put this on a website. See legal, copyright, and reprint information.