Watching Holy Week Unfold
with paintings by French painter James Jacques Tissot (1836-1902)
Holy Week
Palm Sunday
Monday
Tuesday
Wednesday
Maundy Thursday
Last Supper
The Garden
Good Friday
Chief Priests
Pilate and Herod
Via Dolorosa
Crucifixion
Death
Burial
Easter Sunday
Resurrection
Appearances
Good Friday, Easter, and Holy Week articles and short stories
Let Him Be Crucified!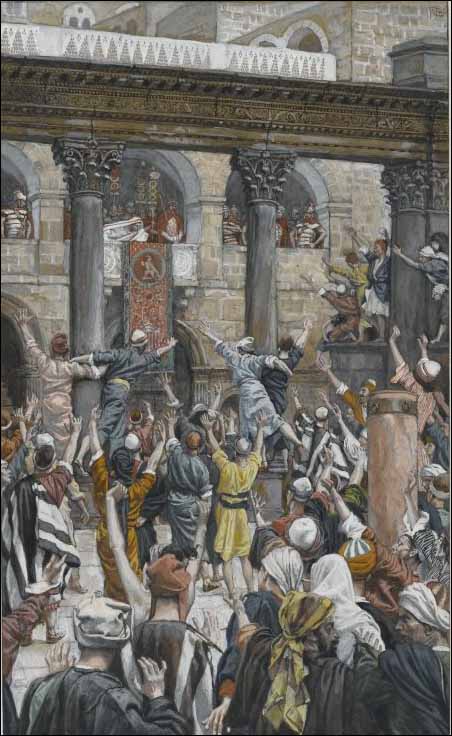 6
As soon as the chief priests and their officials saw him, they shouted, "Crucify! Crucify!" But Pilate answered, "You take him and crucify him. As for me, I find no basis for a charge against him."
John 19:6
18 With one voice they cried out, "Away with this man! Release Barabbas to us!" 19 (Barabbas had been thrown into prison for an insurrection in the city, and for murder.)
20 Wanting to release Jesus, Pilate appealed to them again. 21 But they kept shouting, "Crucify him! Crucify him!"
22 For the third time he spoke to them: "Why? What crime has this man committed? I have found in him no grounds for the death penalty. Therefore I will have him punished and then release him."
23 But with loud shouts they insistently demanded that he be crucified, and their shouts prevailed. 24 So Pilate decided to grant their demand. 25 He released the man who had been thrown into prison for insurrection and murder, the one they asked for, and surrendered Jesus to their will.
Luke 23:18-25


Paintings by by James Jacques Tissot (French painter and illustrator, 1836-1902). Biography. Nearly all of Tissot's paintings of the Life of Christ (1884-1896) are rendered in opaque watercolor over graphite on gray wove paper and are owned by the Brooklyn Museum, New York.
Copyright © 1985-2012, Ralph F. Wilson. <pastor

joyfulheart.com> All rights reserved. A single copy of this article is free. Do not put this on a website. See legal, copyright, and reprint information.