Watching Holy Week Unfold
with paintings by French painter James Jacques Tissot (1836-1902)
Holy Week
Palm Sunday
Monday
Tuesday
Wednesday
Maundy Thursday
Last Supper
The Garden
Good Friday
Chief Priests
Pilate and Herod
Via Dolorosa
Crucifixion
Death
Burial
Easter Sunday
Resurrection
Appearances
Good Friday, Easter, and Holy Week articles and short stories
The Meal in the House of the Pharisee and the Alabaster Box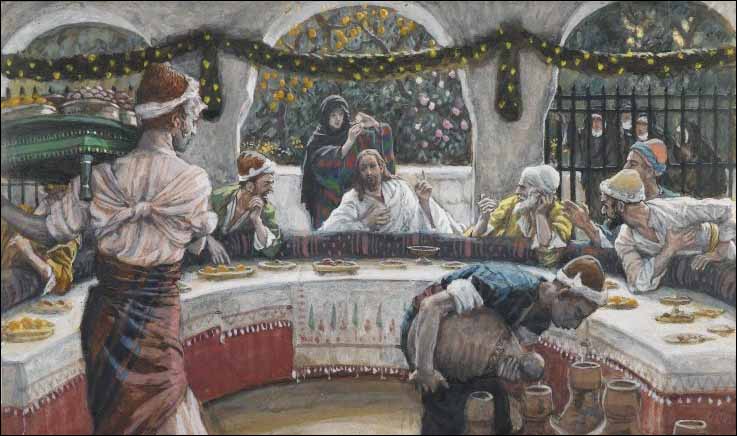 3
While he was in Bethany, reclining at the table in the home of a man known as Simon the Leper, a woman came with an alabaster jar of very expensive perfume, made of pure nard. She broke the jar and poured the perfume on his head.
4 Some of those present were saying indignantly to one another, "Why this waste of perfume? 5 It could have been sold for more than a year's wages and the money given to the poor." And they rebuked her harshly.
6 "Leave her alone," said Jesus. "Why are you bothering her? She has done a beautiful thing to me. 7 The poor you will always have with you, and you can help them any time you want. But you will not always have me. 8 She did what she could. She poured perfume on my body beforehand to prepare for my burial. 9 I tell you the truth, wherever the gospel is preached throughout the world, what she has done will also be told, in memory of her."
Mark 14:3-9 (also Luke 7:36-50)
Paintings by by James Jacques Tissot (French painter and illustrator, 1836-1902). Biography. Nearly all of Tissot's paintings of the Life of Christ (1884-1896) are rendered in opaque watercolor over graphite on gray wove paper and are owned by the Brooklyn Museum, New York.
Copyright © 1985-2012, Ralph F. Wilson. <pastor

joyfulheart.com> All rights reserved. A single copy of this article is free. Do not put this on a website. See legal, copyright, and reprint information.