Watching Holy Week Unfold
with paintings by French painter James Jacques Tissot (1836-1902)
Holy Week
Palm Sunday
Monday
Tuesday
Wednesday
Maundy Thursday
Last Supper
The Garden
Good Friday
Chief Priests
Pilate and Herod
Via Dolorosa
Crucifixion
Death
Burial
Easter Sunday
Resurrection
Appearances
Good Friday, Easter, and Holy Week articles and short stories
The Torn Cloak: Jesus Condemned to Death by the Jews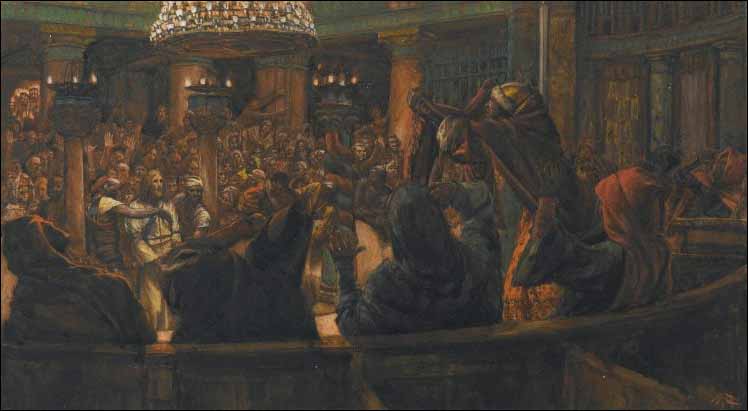 61a
Again the high priest asked him, "Are you the Christ, the Son of the Blessed One?"
62 "I am," said Jesus. "And you will see the Son of Man sitting at the right hand of the Mighty One and coming on the clouds of heaven."
63 The high priest tore his clothes. "Why do we need any more witnesses?" he asked. 64 "You have heard the blasphemy. What do you think?"
They all condemned him as worthy of death.
Mark 14:61-64


Paintings by by James Jacques Tissot (French painter and illustrator, 1836-1902). Biography. Nearly all of Tissot's paintings of the Life of Christ (1884-1896) are rendered in opaque watercolor over graphite on gray wove paper and are owned by the Brooklyn Museum, New York.
Copyright © 1985-2012, Ralph F. Wilson. <pastor

joyfulheart.com> All rights reserved. A single copy of this article is free. Do not put this on a website. See legal, copyright, and reprint information.