Watching Holy Week Unfold
with paintings by French painter James Jacques Tissot (1836-1902)
Holy Week
Palm Sunday
Monday
Tuesday
Wednesday
Maundy Thursday
Last Supper
The Garden
Good Friday
Chief Priests
Pilate and Herod
Via Dolorosa
Crucifixion
Death
Burial
Easter Sunday
Resurrection
Appearances
Good Friday, Easter, and Holy Week articles and short stories
The Tribunal of Annas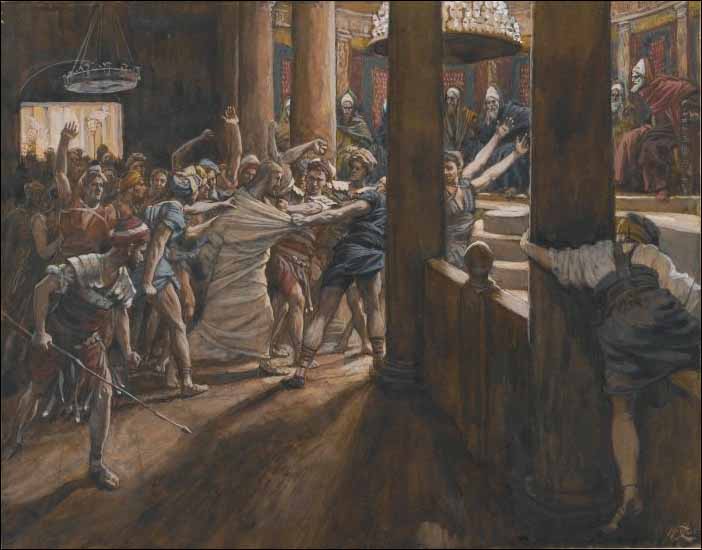 12
Then the detachment of soldiers with its commander and the Jewish officials arrested Jesus.
They bound him 13 and brought him first to Annas, who was the father-in-law of Caiaphas, the high priest that year. 14 Caiaphas was the one who had advised the Jews that it would be good if one man died for the people....
19 Meanwhile, the high priest questioned Jesus about his disciples and his teaching.
20 "I have spoken openly to the world," Jesus replied. "I always taught in synagogues or at the temple, where all the Jews come together. I said nothing in secret. 21 Why question me? Ask those who heard me. Surely they know what I said."
22 When Jesus said this, one of the officials nearby struck him in the face. "Is this the way you answer the high priest?" he demanded.
23 "If I said something wrong," Jesus replied, "testify as to what is wrong. But if I spoke the truth, why did you strike me?"
24 Then Annas sent him, still bound, to Caiaphas the high priest.
John 18:12-14, 19-24


Paintings by by James Jacques Tissot (French painter and illustrator, 1836-1902). Biography. Nearly all of Tissot's paintings of the Life of Christ (1884-1896) are rendered in opaque watercolor over graphite on gray wove paper and are owned by the Brooklyn Museum, New York.
Copyright © 1985-2012, Ralph F. Wilson. <pastor

joyfulheart.com> All rights reserved. A single copy of this article is free. Do not put this on a website. See legal, copyright, and reprint information.