Watching Holy Week Unfold
with paintings by French painter James Jacques Tissot (1836-1902)
Holy Week
Palm Sunday
Monday
Tuesday
Wednesday
Maundy Thursday
Last Supper
The Garden
Good Friday
Chief Priests
Pilate and Herod
Via Dolorosa
Crucifixion
Death
Burial
Easter Sunday
Resurrection
Appearances
Good Friday, Easter, and Holy Week articles and short stories
The Tribute Money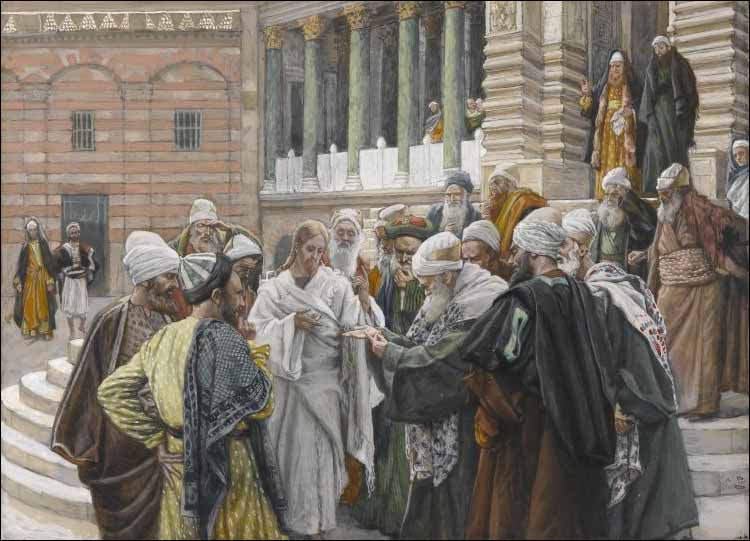 15
Then the Pharisees went out and laid plans to trap him in his words.
16
They sent their disciples to him along with the Herodians. "Teacher," they said, "we know you are a man of integrity and that you teach the way of God in accordance with the truth. You aren't swayed by men, because you pay no attention to who they are.
17
Tell us then, what is your opinion? Is it right to pay taxes to Caesar or not?"
18 But Jesus, knowing their evil intent, said, "You hypocrites, why are you trying to trap me? 19 Show me the coin used for paying the tax." They brought him a denarius, 20 and he asked them, "Whose portrait is this? And whose inscription?"
21 "Caesar's," they replied.
Then he said to them, "Give to Caesar what is Caesar's, and to God what is God's."
22 When they heard this, they were amazed. So they left him and went away.
Matthew 22:15-22


Paintings by by James Jacques Tissot (French painter and illustrator, 1836-1902). Biography. Nearly all of Tissot's paintings of the Life of Christ (1884-1896) are rendered in opaque watercolor over graphite on gray wove paper and are owned by the Brooklyn Museum, New York.
Copyright © 1985-2012, Ralph F. Wilson. <pastor

joyfulheart.com> All rights reserved. A single copy of this article is free. Do not put this on a website. See legal, copyright, and reprint information.