Traditional 14 Stations of the Cross
by Dr. Ralph F. Wilson
Print this Page
Sign up now for a free

Bible Study on 1&2 Thessalonians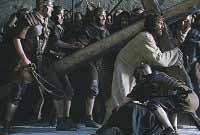 Mel Gibson's film "The Passion of the Christ" (2004) follows the traditional sequence of stations along the Via Dolorosa.
The Stations of the Cross (Way of the Cross, Via Crucis, Via Dolorosa, Way of Sorrows) is a traditional way to consider the last hours of Jesus' life. The devotional practice is said to have begun with St. Francis of Assisi and extended throughout the Roman Catholic Church during the medieval period. It is also sometimes observed in Anglican and Lutheran churches.
I was introduced to it by seeing stations of the cross walks at Catholic retreat centers at training seminars and retreats I have attended. During the day, I'll often walk to each of the stations and then pause to meditate on the event depicted by each station. You'll usually find the 14 traditional Stations of the Cross inside Catholic sanctuaries, as well.
The Traditonal Way of the Cross
The traditional 14 Stations are given below. I have also included scriptures for each where appropriate. (Stations 3, 4, 6, 7, 9, and Mary's presence at 13 not specifically attested to.)
| | | |
| --- | --- | --- |
| 1. | Jesus condemned to death | Mark 15:1-5, 15 |
| 2. | Jesus is given his cross | John 19:6, 15-17 |
| 3. | Jesus falls the first time | |
| 4. | Jesus meets his mother | |
| 5. | Simon of Cyrene carries the cross | Mark 15:21 |
| 6. | Veronica wipes the face of Jesus* | |
| 7. | Jesus falls the second time | |
| 8. | Jesus meets the daughters of Jerusalem | Luke 23:27-31 |
| 9. | Jesus falls the third time | |
| 10. | Jesus is stripped of his garments | John 19:23-24 |
| 11. | Jesus is nailed to the cross | Luke 23:33-34 |
| 12. | Jesus dies on the cross | Luke 23:44-46 |
| 13. | Jesus' body is removed from the cross | |
| 14. | Jesus is laid in the tomb | Matthew 27:57-60 |
Since, however, of the 14 traditional stations, only 8 have clear scriptural foundation, Pope St. John Paul II introduced a new form, the Scriptural or Biblical Way of the Cross on Good Friday 1991 in the Colleseum in Rome. Though the Way of the Cross is designed primarily as a Good Friday devotional exercise, an Alternate or Protestant form of the stations of the cross includes the Resurrection as the final station to emphasize that the cross isn't the end. More links and history.
* In case you've never heard of the folk legend of St. Veronica, you can read more in Wikipedia and the Catholic Encyclopedia.
Copyright © 1985-2013, Ralph F. Wilson. <pastor

joyfulheart.com> All rights reserved. A single copy of this article is free. Do not put this on a website. See legal, copyright, and reprint information.
Discipleship for New Believers
In-depth Bible study books
You can purchase one of Dr. Wilson's complete Bible studies in PDF, Kindle, or paperback format.
Other Bible Study Books

My books are available in paperback and Kindle from Amazon.