Are you looking for the perfect Thanksgiving story for your class or church bulletin? How about a play about Squanto, the native American who helped the Pilgrims survive the first winter? Or pilgrim and thanksgiving art and paintings. You've come to the right place.
---
Inspiring Pilgrim Short Stories

"How the Pilgrims Got their Name," traces the history of the early Separatists from England to Leiden, and then to the New World, and the origin of the word "Pilgrim" from William Bradford's journal.
"Bitter Winter, Better Thanksgiving,", the story of Miles Standish, "Mayflower" leader who worshipped in spite of losing his wife.
"Squanto -- God's Special Indian," tells the story of how Squanto was providentially enabled to help the Pilgrims--and to find Christianity.
"Squanto's Thanksgiving," a 15-minute, one act children's play that tells the story of Squanto's assistance to the Pilgrims.

"Indian Aid and a Blessed Thanksgiving," The Joyful Heart, November 18, 2000. Discusses the role that native Americans Samoset, Massasoit, and Squanto had in the first Thanksgiving celebration.
"Pilgrim Daughter," Evangel, November 21, 1993, pp. 4-5. Also in The Gem, November 22, 1992, p. 4-6; Message of the Open Bible, November 1993, p. 18. A personal story which focuses on the hardships and faith of the early Pilgrims.
---
Uplifting Thanksgiving Articles
"Cranberry Sauce and Pumpkin Pie,". The Gem, November 21, 1993, pp. 2-3. On actually thanking God on Thanksgiving day.

"Pray ... with Thanksgiving," The Joyful Heart, November 24, 2002. Thanksgiving is the seasoning that makes our prayers edible to God. Now available as a 2-minute video to spice up a sermon.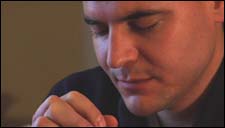 "Who'll Say Grace?", a reminder to pray before our meals, especially on Thanksgiving Day.
"You Pays Your Money, ", things to be thankful about in a take-it-for-granted society.
"The Story of the Sterile Food Tree,"
The Joyful Heart, November 21, 2001. A parable of Thanksgiving in the midst of adversity and change.
"Don't Ask the Blessing, Offer One," Joyful Heart, November 15, 1999. Explains that prayer before meals is to offer thanksgiving to God, not bless the food.
"Overflowing with Thankfulness," A Thanksgiving meditation on Colossians 2:6-7.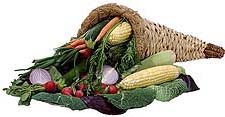 "A Leper's Thanksgiving," The Joyful Heart, Issue 3, November 23, 1996. The story of the ten lepers who were cleansed by Jesus from Luke 17:11-19.
"Cranberry Sauce and Pumpkin Pie,". The Gem, November 21, 1993, pp. 2-3. On actually thanking God on Thanksgiving day.
---
Other Thanksgiving Resources
Thanksgiving and Pilgrim Paintings and Artwork. Links to fine art paintings.
Thanksgiving and Thankfulness Songs, Choruses, and Hymns
Copyright © 2019, Ralph F. Wilson. <pastor

joyfulheart.com> All rights reserved. A single copy of this article is free. Do not put this on a website. See legal, copyright, and reprint information.
Discipleship for New Believers
In-depth Bible study books
You can purchase one of Dr. Wilson's complete Bible studies in PDF, Kindle, or paperback format.

My books are available in paperback and Kindle from Amazon.