Christian Articles Archive
Good King Wenceslas
Christmas Carol with a Message
by Dr. Ralph F. Wilson
Audio
(5:32)
Free E-mail Bible Study

Grace: Favor for the Undeserving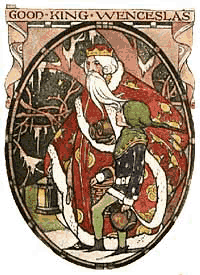 English illustrator Ethel Larcombe (1876-1940), "Good King Wenceslas."
"Good King Wenceslas looked down
on the feast of Stephen...."
I have heard this carol since I was a child, but didn't really know the story behind it. It turns out that Good King Wenceslas (ca. 907 - 935 AD) was the Duke of Bohemia (now the western portion of the Czech Republic). His grandfather and father had turned from paganism to Christianity. His mother, however, was the daughter of a pagan tribal chief. When Wenceslas was 13, his father died, and his mother, having embraced paganism once more, tried to turn him away from Christ.
But when Wenceslas was 18, he gained the throne, had his mother exiled, and sought to reign over his people with mercy and justice as a truly Christian monarch.
He is best known for his acts of kindness - one of which is immortalized in the carol we sing at Christmas. An early biographer wrote of his legendary deeds:
"Rising every night from his noble bed, with bare feet and only one chamberlain, he went around to God's churches and gave alms generously to widows, orphans, those in prison and afflicted by every difficulty, so much so that he was considered, not a prince, but the father of all the wretched."1
Though he ruled for but a decade, he was beloved by his people. At the age of 28, Wenceslas was assassinated on his way to church by his brother, but his influence lived on. He was considered a martyr, was canonized by the Catholic Church, and today is the patron saint of the Czech state.
The carol was written in 1853 by English hymnwriter John Mason Neale. You've probably sung a verse or two of the carol without thinking of the story it tells or the Christian values it teaches - and some stanzas are omitted in modern hymnals.
The first stanza observes Wenceslas, who watches a poor man collecting wood on a cold winter's night. The Feast of St. Stephen is celebrated on December 26th each year.
"Good King Wenceslas looked out, on the Feast of Stephen,
When the snow lay round about, deep and crisp and even;
Brightly shone the moon that night, tho' the frost was cruel,
When a poor man came in sight, gath'ring winter fuel."
The king asks his page or servant where the poor man lives.
"'Hither, page, and stand by me, if thou know'st it, telling,
Yonder peasant, who is he? Where and what his dwelling?'
'Sire, he lives a good league2 hence, underneath the mountain;
Right against the forest fence, by Saint Agnes' fountain.'"3
Wenceslas commands the servant to gather meat, drink, and firewood that they will personally carry to the poor man's home.
"'Bring me flesh, and bring me wine, bring me pine logs hither:
Thou and I shall see him dine, when we bear them thither.'
Page and monarch, forth they went, forth they went together;
Through the rude wind's wild lament and the bitter weather."
The servant almost gives up, but Wenceslas calls on him to walk directly behind him. And miraculously, the servant can feel the saint's warmth as he walks in his footprints.
"'Sire, the night is darker now, and the wind blows stronger;
Fails my heart, I know not how; I can go no longer.'
'Mark my footsteps, good my page. Tread thou in them boldly.
Thou shalt find the winter's rage freeze thy blood less coldly.'
In his master's steps he trod, where the snow lay dinted4;
Heat was in the very sod which the saint had printed."
The carol concludes with a call to all Christians to bless the poor, and in that find a blessing for themselves.
"Therefore, Christian men, be sure, wealth or rank possessing,
Ye who now will bless the poor, shall yourselves find blessing."
The final phrases remind me of two passages from Scripture. The first is from Proverbs:
"He who is kind to the poor lends to the Lord,
and he will reward him for what he has done." (Proverbs 19:17)
The second is Jesus' Parable of the Sheep and the Goats (Matthew 25:31-46) that calls on all his disciples to aid the poor and suffering. In the parable, his disciples don't remember any acts of kindness towards him, for which he blesses them.
"'Lord, when did we see you hungry and feed you, or thirsty and give you something to drink? When did we see you a stranger and invite you in, or needing clothes and clothe you? When did we see you sick or in prison and go to visit you?'
The King will reply, 'I tell you the truth, whatever you did for one of the least of these brothers of mine, you did for me.'" (Matthew 25:34, 37-39)
So when you sing the Christmas carol "Good King Wenceslas," understand the example that the old saint sets for us - and do likewise this Christmas season and always.
"Therefore, Christian men, be sure, wealth or rank possessing,
Ye who now will bless the poor, shall yourselves find blessing."
---
Thanks to Rev. Maggie McNaught from whom I first heard the story.
[1] Biographer Cosmas of Prague wrote about the year 1119 AD.
[2] A "league" originally referred to the distance a person could walk in an hour, about 3 miles or 5.5 kilometers.
[3] St. Agnes of Bohemia or Agnes of Prague.
[4] "Dinted" is a poetic way of "dented" or impressions in the snow.
Copyright © 2022, Ralph F. Wilson. <pastor

joyfulheart.com> All rights reserved. A single copy of this article is free. Do not put this on a website. See legal, copyright, and reprint information.
Discipleship for New Believers
In-depth Bible study books
You can purchase one of Dr. Wilson's complete Bible studies in PDF, Kindle, or paperback format.


My books are available in paperback and Kindle from Amazon.