Christian Articles Archive
My Scholarly Side
by Dr. Ralph F. Wilson

Free E-mail Bible Study

Jesus' Parables for Disciples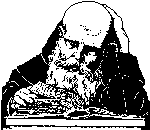 "Four Reasons Why I Believe in the Trinity,"
The Joyful Heart
, August 22, 2000. Why a careful reading of the New Testament requires a trinitarian understanding of the relationship of the Father, Son, and Holy Spirit.
"Review: Crosswalk.com Bible Study Tools," JesusWalk, January 6, 2001. A positive review of Crosswalk's tremendous collection of Bible study tools.
"Spirit Baptism, the New Birth, and Speaking in Tongues," JesusWalk, January 15, 2000. An essay discussing some of the experience classification confusion we suffer from when trying to describe the Holy Spirit's work in our modern day. One view of the baptism of the Holy Spirit. Controversial but few footnotes. In conjunction with JesusWalk lesson on water and Spirit baptism.
"Introduction to Textual Criticism: Why Newer Translations Sometimes Differ Slightly from the KJV," JesusWalk, October 2000 as a part of the JesusWalk Bible Study. Written for laypeople to understand.
"Headship (kephalē) and Submission (hupotassomai) in Ephesians 5:21-33". A 1975 seminary paper on keywords in the relationship of husband and wife. Pretty technical, but important insights.
"Demonization and Deliverance in Jesus' Ministry," JesusWalk, February 19, 2000. An essay discussing demons and demon possession. I prefer the term demonization, since it allows for a wide range of demon influence, only some of which requires exorcism. Explains the role of truth and spiritual deliverance. In conjunction with JesusWalk, Lesson 8, Luke 4:31-37, 41.
"Can a Genuine Christian Commit Apostasy? What Does Hebrews 6:4-6 Teach?" A paper written for a class on Hebrews contending that Hebrews 6:4-6 is a warning to genuine Christians who were tempted to reject Christianity and turn back to Judaism.
"Lifting Hands in Worship," Paraclete, Winter 1986, pp. 4-8. A somewhat scholarly article tracing all the references in the Bible on lifting hands in supplication, blessing, and praise. Heavily footnoted.
"Inquiring of the Lord," Paraclete, Fall 1986, pp. 23-26. A somewhat scholarly study of inquiring of the Lord in the Old Testament using the Urim and Thummim, and inquiry under the New Covenant. Heavily footnoted.
Understanding the Gift of Prophecy (in three parts)
Copyright © 2023, Ralph F. Wilson. <pastor

joyfulheart.com> All rights reserved. A single copy of this article is free. Do not put this on a website. See legal, copyright, and reprint information.
Discipleship for New Believers
In-depth Bible study books
You can purchase one of Dr. Wilson's complete Bible studies in PDF, Kindle, or paperback format.


My books are available in paperback and Kindle from Amazon.