Christian Articles Archive
Lord of the Messy Manger
by Dr. Ralph F. Wilson
Audio (4:01)
Free E-mail Bible Study

Grace: Favor for the Undeserving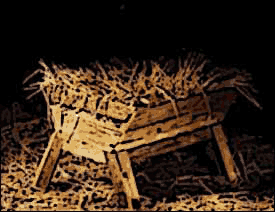 If you think your life is an utter disaster, that God could never use a life as messed up as yours, think again. Let me point you to some familiar Bible stories.
Your life may appear well-ordered on the surface, but underneath there may be disarray. Brokenness, pain, shame. Things you seem utterly incapable of fixing.
The good news, my friend, is that God is bigger than your messy life. He is not impotent. He is not confined by your boundaries. He is God! And he is unafraid of working in messy situations. In fact, he gets a kick out of surprising us with his amazing grace.
What are your points of pain? What is the mess that you are struggling with? Maybe, just maybe, God is able to take your mess, and out of it bring blessing.
"And we know that in all things God works for the good of those who love him, who have been called according to his purpose." (Romans 8:28)
How bad can it get? A girl gets pregnant. Her parents are utterly shamed. Her fiancé -- not the father -- is ready to dump her. And then he is told, "Do not fear to take Mary as your wife, for that which is conceived in her is from the Holy Spirit."5
How bad can it get? The girl is in labor, far from home with only a cave-barn where she can lie down and have her baby. The only place to put her newborn is a manger. A cattle trough. We imagine it with fresh, fragrant straw plucked from a bale of hay. But I doubt that the cave was stocked with neat bales stacked against the wall. The straw that night was neither fresh nor fragrant. Life was a mess -- but God was in it.
God sees Mary with her tiny infant and sends a host of angels to announce the birth.
"Behold, I bring you good news of great joy
that will be for all the people.
For unto you is born this day
in the city of David
a Savior, who is Christ the Lord.
And this will be a sign for you:
you will find a baby wrapped in swaddling cloths
and lying in a manger."6
The messy manger is itself a sign from God. Is your life a mess? Then let this be a sign to you.
Your very good news is that the God of the messy manger, the resurrected Christ of the cruel cross, and the Holy Spirit, in whom you live and move and have your being, are able to break through in your life, begin to clean up your mess, bless you too. And that -- like the messy manger -- will be a wonder all its own.

---
Copyright © 2023, Ralph F. Wilson. <pastor

joyfulheart.com> All rights reserved. A single copy of this article is free. Do not put this on a website. See legal, copyright, and reprint information.
Discipleship for New Believers
In-depth Bible study books
You can purchase one of Dr. Wilson's complete Bible studies in PDF, Kindle, or paperback format.


My books are available in paperback and Kindle from Amazon.