Christian Articles Archive
Christmas Travelers
by Dr. Ralph F. Wilson

Free E-mail Bible Study

Grace: Favor for the Undeserving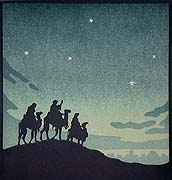 The Wisemen (c. 1925), by Australian woodcut artist John Hall Thorpe (1847-1947), color woodcut, 7-7/8"x7-1/2"
Christmas recalls the story of travelers propelled by the unhurried rhythm of their animals:
We three kings of Orient are
Bearing gifts we traverse afar,
Field and fountain, moor and mountain,
Following yonder star.
Why did these wisemen undertake such a journey?
A tall astronomer, advisor to the Persian king, springs from his midnight vigil in the palace courtyard. "Casper, come! Look along the rod I've sighted toward the constellation of the Jews." Casper peers into the blackness. "Do you see it? That brilliant star is new tonight! It must signify the birth of a mighty king."
A soft whistle escapes him as he spots it. "There it is!" He's talking rapidly now. "I've read ancient Hebrew scriptures which tell of this ruler's star."[1] Rising, he announces, "We must see him. We must go!"
Traversing the caravan routes of Persia, Babylon, and Syria for 1,200 miles, they ford broad rivers, pass ancient cities, cross barren deserts. Three months they trek westward, day after day, "following yonder star."
In Jerusalem they inquire, "Where is he that is born King of the Jews? For we have seen his star in the East, and are come to worship him."[2] Worship? So the Babe is more than a king!
Now they follow the shining star till it rests over a simple Bethlehem home. At early dawn neighbors gather to watch the richly- robed travelers dismount. Joseph meets them at the door.
"We've come to see the child, the King." The wise men fall before the Babe, faces to the floor, royal counselors doing homage, worshipping the Christ child. Outside, their servants unload weighty chests from the camels and set gifts before the King. Heavy fragrances of frankincense and myrrh mingle to fill the room as one by one the boxes are opened.
A touch of the boy-child's tiny fingers, a final longing look, and the men rise to go. Camel bells soon fade in the brisk morning air.
We, too, travel at Christmas, visiting family and friends. Yet, like the wisemen, the most important journey we make these hectic holidays is to draw nigh Jesus himself with the gift of our hearts.
---
1. Numbers 24:17
2. Matthew 2:2 (KJV)
Copyright © 2022, Ralph F. Wilson. <pastor

joyfulheart.com> All rights reserved. A single copy of this article is free. Do not put this on a website. See legal, copyright, and reprint information.
Discipleship for New Believers
In-depth Bible study books
You can purchase one of Dr. Wilson's complete Bible studies in PDF, Kindle, or paperback format.


My books are available in paperback and Kindle from Amazon.