Christian Articles Archive
Jesus e o Coelho de Páscoa
by Dr. Ralph F. Wilson
traduzido por César de Azevedo Gil

Free E-mail Bible Study

1 & 2 Timothy and Titus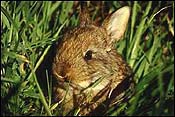 Pergunte ao seu filho adolescente típico o que é a Páscoa e ele lhe falará sobre o coelho de Páscoa, e sobre encontrar cestas de páscoa cheias daquela grama incômoda que parece apegar-se à mobília da casa por muito tempo depois de a páscoa ter passado. E aquelas balas pastosas, cobertas com papel alumínio, que são um pobre substituto do chocolate de verdade. E, naturalmente, há ovos de páscoa para pintar e balas de goma - você precisa ter balas de goma. As pretas são as melhores.
"E, mamãe, isto é a páscoa".
"Oh, Jason, que bonitinho".
Que triste! A maior parte das crianças hoje em dia não sabe patavinas sobre o que a páscoa realmente significa.
Por que você não conta a estória de Jesus para seus filhos ou netos nesta páscoa? Fale a eles sobre o homem que é Filho de Deus, que veio mostrar às pessoas o amor que Deus tem por elas. Diga-lhes como pessoas más o mataram, cravando-o em uma cruz. Diga-lhes como Jesus foi sepultado em uma tumba escavada na rocha. Conte-lhes como os soldados romanos foram impotentes na manhã do terceiro dia, quando a pedra foi rolada e Jesus saiu da tumba, vivo.
Diga às suas crianças que, por causa de Jesus, mesmo que as pessoas morram, elas não permanecerão mortas. Que elas podem viver para sempre com Jesus, e até mesmo os seus corpos serão ressuscitados dentre os mortos, assim como aconteceu com o corpo de Jesus.
Agora - eu tenho certeza que Jesus ama os coelhos - ele os fez. E provavelmente gosta também de chocolate. Mas você não acha que ele fica um pouco impaciente com pais e avós que exaltam o coelho acima do Salvador? E no Seu dia especial, também?
E então? Você vai lhes contar a verdadeira estória, este ano? Talvez até mesmo levá-los à igreja, onde ouvirão a estória, narrada por experientes professores de escola dominical? Certo, compre algumas balas de goma e um pouco daquela grama pegajosa para as cestas. Mas não exclua a verdade, real e fascinante, a respeito do triunfo de Jesus sobre a morte.
Afinal de contas, estas mesmas crianças estão, dia a dia, tentando entender a morte e vida que vêem ao seu redor. Elas têm esperanças reais e medos reais, e um destino sendo formado. Elas merecem uma "Páscoa de Jesus", este ano.
Copyright © 2023, Ralph F. Wilson. <pastor

joyfulheart.com> All rights reserved. A single copy of this article is free. Do not put this on a website. See legal, copyright, and reprint information.
Discipleship for New Believers
In-depth Bible study books
You can purchase one of Dr. Wilson's complete Bible studies in PDF, Kindle, or paperback format -- currently 48 books in the JesusWalk Bible Study Series.
Old Testament
Gospels
Acts
Pauline Epistles
General Epistles
Revelation
Topical
Grace: Favor for the Undeserving


My books are available in paperback and Kindle from Amazon.