Bitter Winter, Better Thanksgiving,
the story of Miles Standish
by Dr. Ralph F. Wilson

Free E-mail Bible Study

1 & 2 Timothy and Titus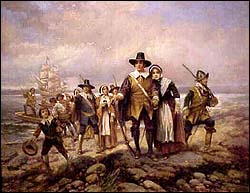 "Pilgrims Landing," Edward Percy Moran (1862-1935), American artist, early 1900s, oil on canvas, 23" x 29".
"Then the sicknes begane to fall sore amongst them, and the weather so bad .... the Gov/r and cheefe of them, seeing so many dye, and fall downe sick dayly, thought it no wisdom to send away the ship...."
Capt. Miles Standish had been much at his wife Rose's bedside. As much time, that is, as he could spare from stalking game, guarding against savages, and felling trees to construct crude homes on shore.
A bitter wind whistled through chinks and cracks in the Mayflower, anchored in Plymouth harbor that winter of 1620-21. Rose's chills would turn to uncontrollable shaking. Then just as suddenly, her body would be ablaze with fever. Herbs from the surgeon's chest did little to relieve her. By spring only five wives remained out of the eighteen who had sailed to Plymouth. Rose was not among them.
Thanksgiving? What was that? The golden dreams of a New World that Miles and Rose had cherished together had evaporated into hollow hopes. And yet that fall Capt. Standish joined other bereaved Pilgrims in the first Thanksgiving celebration.
The real test of thankfulness is whether we can give thanks from the heart for what we do have, despite the wounds and pains of yesterday's struggles. Ours is not some fair-weather faith, but a resilient trust in in the midst of pain. The Pilgrims lived close to the edge of survival. Perhaps that is why they were so thankful.
How about you? Does your material bounty cause you to neglect thanks? When your clan gathers this Thanksgiving will a prayer of thankfulness be forgotten between moist turkey and pumpkin pie? Will your children see you bow your head to give thanks, or merely ask for another helping of dressing and cranberry sauce?
Children will be watching, you know. And their little faith is being formed by what they see. Your family's Thanksgiving celebration will instruct them about thankfulness, for good or ill.
Will they see you too wealthy to be thankful? Too independent to need God any more? Too bitter, perhaps? Or will they watch you truly give thanks for God's blessings on this special day? And maybe as they watch, they'll catch a hint that mom and dad and grandmother, in spite of painful seasons they have faced, have seen these bitter winters bear fruit in better thanksgiving.
Copyright © 2023, Ralph F. Wilson. <pastor

joyfulheart.com> All rights reserved. A single copy of this article is free. Do not put this on a website. See legal, copyright, and reprint information.
Discipleship for New Believers
In-depth Bible study books
You can purchase one of Dr. Wilson's complete Bible studies in PDF, Kindle, or paperback format -- currently 48 books in the JesusWalk Bible Study Series.
Old Testament
Gospels
Acts
Pauline Epistles
General Epistles
Revelation
Topical
Grace: Favor for the Undeserving


My books are available in paperback and Kindle from Amazon.