Christian Articles Archive
Child of Promise:
A Prayer for Christmas Morning
by Dr. Ralph F. Wilson

Free E-mail Bible Study

1 & 2 Timothy and Titus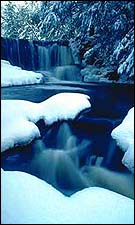 Who are you little baby? Who are you little Christchild, lying so quietly in manger straw? Who are you that angels should herald your presence and stars announce your birth? That wisemen and shepherds — the high and the low — should bow before you? Who are you, child of Bethlehem, son of David? What is your future? What is your promise?
Seven centuries before your birth the ancient Scriptures speak of you….
For to us a child is born,
To us a son is given,
And the government will be on his shoulders,
And his name will be called
Wonderful Counselor,
Mighty God
Everlasting Father,
Prince of Peace.
Of the increase of his government and of peace
There will be no end.*
What is this government? What is this peace, O Christmas baby? Are you a warrior-to-be? Are you a king? What promise do you hold?
How can you be the Mighty God while flecks of straw, blown from the stable floor, dot your fine hair? How is this?
How can you be the Everlasting Father while not yet an hour old? How is it?
How can you be a Wonderful Counselor before you've learned? A teacher before you've been taught? What is the wellspring of your wisdom?
What is this mystery set before us, enigmatic newborn lying in a stable manger, born of parents poor, yet destined for this greatness? You must be the One we've hoped for, longed for all our lives. The One who will set us free from our depressions and oppressions, within and without.
Little wonder angels cannot contain their Good News of Great Joy. Little wonder heavenly host sing in chorus,
Glory to God in the highest,
and on earth peace to men....**
Be my peace, O Prince of Peace. Let its gentle, joyful blanket comfort my nervous soul, and still the warring of your earth.
Be my government, O Christ. Govern not my own heart only, but also this desperate world in which I live.
Be my Everlasting Father and my Counselor. By your counsel guide me out of confusion and turmoil into the sunlight that always shines above my low-lying clouds.
Welcome, Christchild. All my life I have needed you. O Child of Promise, this Christmas morning I give to you my heart. Amen.
---
* Isaiah 9:6-7a
** Luke 2:14
Copyright © 2023, Ralph F. Wilson. <pastor

joyfulheart.com> All rights reserved. A single copy of this article is free. Do not put this on a website. See legal, copyright, and reprint information.
Discipleship for New Believers
In-depth Bible study books
You can purchase one of Dr. Wilson's complete Bible studies in PDF, Kindle, or paperback format -- currently 48 books in the JesusWalk Bible Study Series.
Old Testament
Gospels
Acts
Pauline Epistles
General Epistles
Revelation
Topical
Grace: Favor for the Undeserving


My books are available in paperback and Kindle from Amazon.