Christian Articles Archive
New Year's Day Stories and Articles
by Dr. Ralph F. Wilson

Free E-mail Bible Study

1 & 2 Timothy and Titus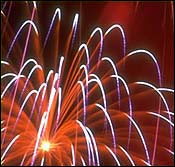 Here are some New Year's thoughts and stories of encouragement and inspiration for the new year.
A New Year's Paradigm Shift -- Soaring not Struggling (Isaiah 40:28-31). The Joyful Heart, December 31, 2019. Compares physical strength with the spiritual strength God gives us when we rely on him.
"Break Up Your Fallow Ground, Your Unplowed Ground," The Joyful Heart, Issue 51, December 30, 2004. Studies two passages from the Prophets about repentance and preparing our hearts for God to work. A New Year's message.
"New Year's Resolutions" Reasons why we ought to make new resolutions in the New Year.
"Don't Write 'New Years' in Old English Script" The Joyful Heart, Issue 44, January 3, 2004. Traditions preserve values, but can keep you from listening to God speaking today and from changing in response to his future for you.
"Don't Cling to the Firewood," Thoughts on courage and faith in the midst of change.
"Two Constants in the New Millennium," The Joyful Heart, Issue 24, December 30, 1999. With change swirling around us, one thing doesn't change.
Auld Lang Syne by Robert Burns
. The story of Burns' hearing this New Year's song in 1788, with ancient and more modern lyrics.
Copyright © 2023, Ralph F. Wilson. <pastor

joyfulheart.com> All rights reserved. A single copy of this article is free. Do not put this on a website. See legal, copyright, and reprint information.
Discipleship for New Believers
In-depth Bible study books
You can purchase one of Dr. Wilson's complete Bible studies in PDF, Kindle, or paperback format -- currently 48 books in the JesusWalk Bible Study Series.
Old Testament
Gospels
Acts
Pauline Epistles
General Epistles
Revelation
Topical
Grace: Favor for the Undeserving


My books are available in paperback and Kindle from Amazon.