Christian Articles Archive
Two Christmas Disciples - Zechariah and Mary. A Study in Contrasts
by Dr. Ralph F. Wilson

Free E-mail Bible Study

Grace: Favor for the Undeserving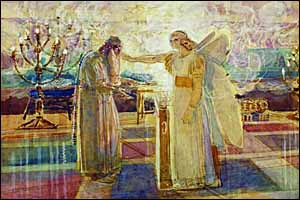 Alexander Ivanhov, 'The Angel Gabriel Stikes Zechariah Mute' (1824), watercolor and white pencil on yellow paper, 26x39 cm, State Tretyakov Gallery, Moscow.
I suppose we should call them disciples, followers of the Lord. Luke's Gospel begins with the story of two such disciples -- Zechariah the priest and Mary, who is to become mother of Jesus.
I can't help but contrast them, the old priest and the young woman. Both are righteous, upstanding people in their communities. Zechariah especially. After all, he is a priest who ministers to God in the Holy Place and has seen things few others have been privileged to behold.
In that amazing year two millennia past, the Angel Gabriel comes to each with a message. Both are utterly terrified. The angel reassures them, "Do not be afraid."
To Zechariah, Gabriel announces that his elderly, barren wife Elizabeth will bear a son, John, who will be great, and will prepare God's people by turning many of them to the Lord their God.
To Mary, Gabriel announces that God has favored her, and that she will conceive and bear a son, Jesus, who will be called Son of the Most High and reign forever over the Kingdom of his ancestor David. In other words, her son Jesus will be the long hoped for Messiah that will deliver Israel.
Each receives a momentous message, but their responses vary.
Zechariah questions the angel. How can I be sure of this? My wife is barren and we're too old to have children. Unbelief.
Mary's response on the surface seems similar. "How will this be, since I am a virgin?" However, when you consider Mary's words, you realize they don't reflect unbelief. Rather she seeks clarification. The angel explains that she will conceive by the Holy Spirit, not by human means. And that her cousin Elizabeth is already six months pregnant.
Once she hears this, Mary's answer is amazing. "I am the Lord's servant. Let it be to me as you have said." She sees herself as God's servant. If this is how her Master wants her to serve, then she is willing.
She's just a child, you say, perhaps 13 or 14. How can she make such a life-altering decision? She doesn't understand all the implications. How scientific can all this be anyway? And what about the scandal her pregnancy will create in her hometown, the rejection, the shame she will bring upon her family and her fiancée Joseph? She can't know all this. She hasn't considered all the factors. So her answer is that of a simpleton, a child. A girl her age should never have to make such a decision! But she does.
Perhaps you're like old Zechariah, very religious but battling unbelief. His decades-long struggle with infertility has eaten at his soul and made him cynical. The angel doesn't ask him to do anything difficult, yet still he questions. And for his unbelief he is struck mute until his son is born.
Instead of seeing Mary as a simpleton, perhaps we ought to see her as a young woman who trusts God. Yes, she is young, but God can speak profoundly to children, to young teenagers. I know that to be true! Jesus welcomes children to come to him, and says that we need to become like little children if we would enter the Kingdom of God. Mary is young, but she is not stupid. She asks the appropriate question. And then, in simple faith, she responds as a servant should: Yes, sir. Just as you say.
Our problem is that too often we act as a servant should not act. We demand to know all the ramifications, all of the possible scenarios, before we will present ourselves as a servant. We want to be master of our fate, not actual servants, even servants of a loving God.
And so Zechariah and Mary present us with a challenging contrast this Christmas season. With whom will you identify? Which would you rather be like? As for me, I chose to be a servant despite all the unknowns of my future. Lord, let it be to me as You desire.
Based on the account found in Luke 1:5-38.
Copyright © 2022, Ralph F. Wilson. <pastor

joyfulheart.com> All rights reserved. A single copy of this article is free. Do not put this on a website. See legal, copyright, and reprint information.
Discipleship for New Believers
In-depth Bible study books
You can purchase one of Dr. Wilson's complete Bible studies in PDF, Kindle, or paperback format.


My books are available in paperback and Kindle from Amazon.