Christian Articles Archive
Review: The 21 Irrefutable Laws of Leadership
Reviewed by Dr. Ralph F. Wilson

Free E-mail Bible Study

1 & 2 Timothy and Titus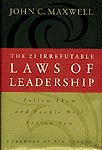 The 21 Irrefutable Laws of Leadership:
Follow Them and People Will Follow You
by John C. Maxwell
Thomas Nelson Publishers, August 1998
231 pages, hardcover
"Don't ever say 'always,'" my mother told me. So when someone says "irrefutable" I'm quick to challenge such a too-complete assertion. But the more I've read of Maxwell's 21 Irrefutable Laws of Leadership, the more I think he's nailed it.
John Maxwell has been learning and teaching leadership throughout his career as a Wesleyan pastor and seminar speaker. He lives and breathes leadership. And in this book he has distilled the art of leadership into 21 "simple" laws. Well, not so simple, maybe, but at least understandable.
#1 "The Law of the Lid" asserts his basic premise that leadership ability determines the ultimate level of a person's effectiveness. If you have gifts and abilities, you'll make a greater impact the better leader you become. While some people may be blessed with a natural aptitude for leadership, Maxwell contends that leadership "skills" are learnable. You don't have to be a "born leader." You can apply yourself and become a much better leader than you are.
#2 "The Law of Influence." Here's another bedrock proposition: Leadership = Influence, no more and no less. Many church and secular leaders grossly misunderstand this point. They think that Leadership = Power. Maxwell argues that your leadership scope is how many people you influence, not how much organizational power you can wield from your position or office. On the basis of these two concepts, Maxwell constructs a whole philosophy of leadership. He explains the laws of "Solid Ground," "Respect," "Intuition," "the Inner Circle" and many others.
Some are especially intriguing. "The Law of E.F. Hutton," for example, is based on a TV ad campaign that ended with the motto: "When E.F. Hutton speaks, people listen." Maxwell's Law #5 says you can quickly tell who the real leader/influencer in a group is, because when this person speaks, everyone at the table listens, nods, and begins to express assent. Maxwell learned this at his first church where he discovered the real leader was Claude, even though Claude wasn't even the church moderator. Maxwell then learned to influence Claude and let Claude lead the others.
You can see how practical this kind of book could be. We bumble around for much of our lives, and stumble over these "laws," trying to learn to be leaders, often not understanding what went wrong. With some clear direction — and that's what Maxwell provides — you'll be able to grow more quickly as a leader.
Don't expect a "spiritual" book, however. While the "laws" are solidly founded on Scriptural principles, they are expressed in a non-religious manner. For years, Maxwell has been called on by mega-corporations to teach leadership to their executives, so this and some of his more recent books are designed to be read with profit by both Christian and business audiences.
I've read a lot in the field of leadership, and in my opinion, Maxwell is tops. He's not only humorous and easy-to-read, his analysis of the essentials of leadership is brilliant. If you're a church leader, you'll want to read this, and then buy a copy for your pastor at Christmas. If you're a pastor, this is a book to absorb and then circulate among your lay leaders to raise their level of leadership. This will also be an appreciated gift to a business executive.
---
You can purchase this book at a 30% discount through this link.
For your convenience, we've listed nearly all of Maxwell's books on the "Leadership" page of our Joyful Heart Christian Bookstore. You'll receive discounts of 20% to 30% and Joyful Heart Ministries will receive a 15% commission so we can increase the scope of our ministry to you.
Copyright © 2023, Ralph F. Wilson. <pastor

joyfulheart.com> All rights reserved. A single copy of this article is free. Do not put this on a website. See legal, copyright, and reprint information.
Discipleship for New Believers
In-depth Bible study books
You can purchase one of Dr. Wilson's complete Bible studies in PDF, Kindle, or paperback format -- currently 48 books in the JesusWalk Bible Study Series.
Old Testament
Gospels
Acts
Pauline Epistles
General Epistles
Revelation
Topical
Grace: Favor for the Undeserving


My books are available in paperback and Kindle from Amazon.