Christian Articles Archive
The Power of Momentum
by Dr. Ralph F. Wilson

Free E-mail Bible Study

Jesus' Parables for Disciples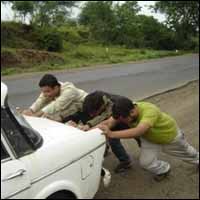 "Do not despise the day of small things," said the prophet Zechariah.
Five centuries before Christ a great project to rebuild the temple had ground to a halt. The site had been devoid of activity for years. People were discouraged. But then Zechariah inspired the people to turn to God, with his prophecy: "Not by might nor by power, but by my Spirit, says the Lord Almighty!" And inspired by God, with the power of his Spirit, the people rose up and finished the temple to the glory of God.
"The day of small things" can discourage us, too. We see our few numbers. We experience the drag of inertia and resistance to change.
Is there any hope to grow and become a powerful church once more? Yes, indeed! It is found in the power of momentum. Newton discovered that:
Momentum is the product of the mass (weight) and velocity (speed) of an object.
A big, heavy, dead-weight object can have huge momentum at very slow speed — if you can ever get it going. But so can a small, light object at higher speed -- and you can get it going much easier.
Smaller objects — and churches — are inherently much easier to get up to speed and change direction than large churches. A speedboat can run circles around an ocean liner.
The Laws of Motion indicate that a small church moving fast can actually generate more momentum than a large church moving slowly. Once we get our speed up, we generate huge momentum — and momentum attracts people who like to be part of something that is going, happening, moving. It's the snowball effect.
Of course, to generate momentum, we need to be willing to move fast — to create speed velocity. And that requires a willingness to change.
Some people might say, "We're trying to do too much, too fast. Take it slower." Those people mean well, but don't understand either the laws of physics or the power of momentum.
Have you ever tried to push an old car with a dead battery fast enough that the engine will catch when you engage the clutch? Then you understand.
We small churches may not have much mass at the beginning, but if we can create velocity along the path of God's will for us, we can generate great momentum — and through that momentum grow in effectiveness, size, and in our mission to reach our community for Christ.
Momentum = size times speed
We can turn our smaller size into great momentum if we're willing to move! That's how it works.
"Not by might, not by power, but by my Spirit, says the Lord.... Do not despise the day of small things." (Zechariah 4:6, 10)
Copyright © 2023, Ralph F. Wilson. <pastor

joyfulheart.com> All rights reserved. A single copy of this article is free. Do not put this on a website. See legal, copyright, and reprint information.
Discipleship for New Believers
In-depth Bible study books
You can purchase one of Dr. Wilson's complete Bible studies in PDF, Kindle, or paperback format.


My books are available in paperback and Kindle from Amazon.