Christian Articles Archive
Christ our Passover Lamb
by Dr. Ralph F. Wilson

Free E-mail Bible Study

Jesus' Parables for Disciples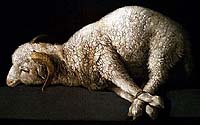 It begins as a typical Passover meal. Peter and John have made the preparations, purchased a yearling lamb and sacrificed it in the Temple. Now they have prepared the traditional meal — lamb, unleavened Matzos bread, wine, bitter herbs, fruit puree, and the rest.
Jesus, as head of the household of his disciples, presides at the meal. He begins by recounting for them the familiar Passover story they have heard at every Passover since they were children — of Israel's deliverance from oppression in Egypt. He tells them ...
How the Israelites sacrificed a lamb for each household and took some of the blood, painting some of it with a bunch of hyssop on the top and sides of the house's doorframe.
How they ate meat roasted over the fire along with bitter herbs and bread made without yeast.
How God had promised Moses, "The blood will be a sign for you on the houses where you are. And when I see the blood, I will pass over you."
With the taste of lamb still fresh in their mouths, Jesus now takes a piece of the unleavened Matzos bread and breaks it. "This is my body given for you," he says. "Do this in remembrance of me."

Now available as a modestly-priced e-book and printed book. Why don't you purchase a copy today. Learn more.
With the image of blood still vivid in their minds, he takes a cup and pours into it the rich red wine. "This is my blood of the new covenant which is poured out for many for the forgiveness of sins," he tells them. "Drink from it, all of you."
And so the Jesus fulfills the Passover for all time. "Do this in remembrance of me," he calls to us. "Drink from it, all of you," he invites us. For Christ our Passover lamb has been sacrificed.
_____________
This meditation draws on scriptures from Exodus 12:1-23; Matthew 26:26-28; Luke 22:7-20; and 1 Corinthians 5:7. For more on this theme, see my "Behold, the Lamb of God" Bible Study.
Copyright © 2023, Ralph F. Wilson. <pastor

joyfulheart.com> All rights reserved. A single copy of this article is free. Do not put this on a website. See legal, copyright, and reprint information.
Discipleship for New Believers
In-depth Bible study books
You can purchase one of Dr. Wilson's complete Bible studies in PDF, Kindle, or paperback format.


My books are available in paperback and Kindle from Amazon.