Christian Articles Archive
Psalm for Easter Morning
by Dr. Ralph F. Wilson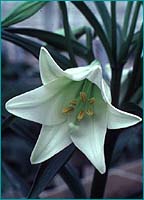 In chill of dawn birds sing clear
After Friday's darkness,
After Saturday's numbness;
Dew on grasses sparkle
As night surrenders to rising sun,
And clear blue reigns above
Without hint of cloud.
Women travel swiftly, silently
On their pathway to the Garden,
Where martyred Messiah lies slumbering,
Lifeless on cold limestone
In a newly-chiseled tomb.
As they approach,
Guards have vanished;
Remnants of a fire smolder
Among debris of camp
Deserted in haste.
In their place resides a new Guardian,
Harbinger of a Heavenly Army,
Resplendent in white,
Seated upon the stone of death
Now displaced forever.
The Angel speaks,
women shrink back.
"Why do you seek the living
Among the dead.
He is not here;
He is risen,
Just as he said."
Hallelujah, risen Jesus!
Praise forever, risen Lord!
We greet you at your Resurrection,
Bow before you now and always --
Lives wide open,
Cleansed and healed,
Hands uplifted,
Hearts surrendered.
Forgive our doubts,
O Risen Lord,
Calm our fears,
Renew our faith,
And lead our lives from this day on.
For we serve You,
Christ our Lord!
And we love You,
Risen King!
In your Army we will follow.
Lead us on!
Lead us on!
Copyright © 2017, Ralph F. Wilson <pastor

joyfulheart.com>. All rights reserved. Permission granted for use in groups and churches, and reprinting, so long as author byline and copyright information is included.
Copyright © 2023, Ralph F. Wilson. <pastor

joyfulheart.com> All rights reserved. A single copy of this article is free. Do not put this on a website. See legal, copyright, and reprint information.
Discipleship for New Believers
In-depth Bible study books
You can purchase one of Dr. Wilson's complete Bible studies in PDF, Kindle, or paperback format.


My books are available in paperback and Kindle from Amazon.