Christian Articles Archive
The Steadfast Love of the Lord
(Lamentations 3:22-23)
by Dr. Ralph F. Wilson
Audio (6:50)


Free E-mail Bible Study

Grace: Favor for the Undeserving
<! ---------TEXT BELOW THIS LINE--------- >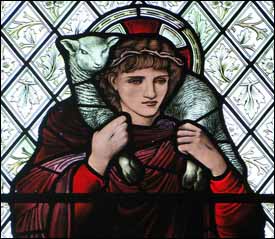 Edward Burne-Jones, 'Good Shepherd' stained glass window (1895), Harris Manchester College, Oxford.
When you read the book of Lamentations in the Old Testament, it can seem pretty grim. Jeremiah mourns the destruction of Jerusalem by the Babylonians in 586 BC. The book's chapters repeat one dismal lament after another, line after line. It's crushing -- and reflects the way the Israelites feel after this massive defeat and exile. But the dark lament finally gives way to hope.
"21 But this I call to mind,
and therefore I have hope:
22 The steadfast love of the LORD never ceases;
his mercies never come to an end;
23 they are new every morning;
great is your faithfulness.
24 'The LORD is my portion,' says my soul,
'therefore I will hope in him.'" (Lamentations 3:21-24, ESV)
In spite of the bitter circumstances, God's character shines forth.
God's Faithful Love
The author highlights three aspects of the Lord's character -- his love, his mercy, and his faithfulness. Let's look at these.
"Steadfast love" (ESV, NRSV), "great love" (NIV), "mercies" (KJV, NASB) is the Hebrew noun ḥesed. It is Yahweh's "great love," his "lovingkindness." I like the translation "steadfast love," because to me it conveys love that never gives up, never quits (1 Corinthians 13:7-8a).[1]
"Mercies" (ESV, NRSV), "compassions" (NIV, KJV) is the plural noun raḥamîm, "tender mercy, compassion," from rāḥam, "love deeply; have mercy, be compassionate."[2]
"Faithfulness" is the noun ʾemûnâ, "firmness, faithfulness, fidelity, steadiness," from ʾāman (from which we get our word, "Amen") "to be established, be faithful."[3]
In our text, the words are clearly related to each other. Each underscores a part of God's gracious, steadfast character that brings us hope. This is the character revealed to Moses as Yahweh passed before him on Mt. Sinai (and is repeated many times in the Bible[4]).
"The LORD, the LORD,
a God merciful[5] and gracious,[6]
slow to anger,
and abounding in steadfast love[7] and faithfulness."[8](Exodus 34:6)
The character words in our text -- steadfast love, mercies, faithfulness -- are used in parallel, as saying something similar. This shouldn't surprise us, since one of the chief characteristics of Hebrew poetry is parallelism.
Never-Ending Love
God's character, God's mercies never end, are never depleted, never quit. You see the parallelism in verse 22.
Never cease[9] (vs. 22a).
Never come to an end[10] (vs. 22b).
Several modern translations (ESV, NRSV, NJB, and NASB) capture this well.[11]
When you get to verse 23, this actually seems like triple parallelism, intensifying the idea all the more.
Never cease (vs. 22a).
Never come to an end (vs. 22b).
Renewed every morning (vs. 23a).
And these three lines are capped off with a conclusion based on what they assert: "Great is your faithfulness!" God, your mercies never quit -- ever -- thus your faithfulness must be very great indeed!
Let's meditate for a moment on the phrase, "they are new every morning." "New" is ḥādāsh, "new, new thing, fresh," from the verb "to renew, repair."[12] At night I'm tired, my muscles may be sore, I am exhausted. But by the time I've had a good sleep, I wake up renewed, refreshed. God's mercies are like that. Every morning they're renewed, refreshed, ready to go. They never quit.
I Claim God's Love As My Own
The depressing, repetitious lament of the first part of Lamentations is broken when these verses appear:
"22 The steadfast love of the LORD never ceases;
his mercies never come to an end;
23 they are new every morning;
great is your faithfulness." (Lamentations 3:22-23)
And the author exclaims:
"'The LORD is my portion,' says my soul,
'therefore I will hope in him.'" (verse 24)
The verb "to apportion, allot" often occurs in the sense of territories in the Promised Land being apportioned out to the twelve tribes of Israel (Numbers 26:53). In verse 24, we're reminded that Yahweh himself is "my portion,"[13] the "territory" apportioned out to me, if you will (Psalm 16:5; 73:26; 119:57; 142:5; Jeremiah 10:16; 51:19). He is mine. I have a share in him. I have a right to claim him and his promises. I have a right to hope in his promises. I'll take my piece of that firm hope and hang on to it! Yes, I will!
God's Love Is Your Portion Too
My friend, are you discouraged, depressed? Have circumstances crushed you like the fall of Jerusalem crushed the Israelite exiles? Then call these verses to mind as the basis of renewed hope for you. His steadfast love and compassions are yours; as his child you have a right to them. His faithfulness is for you! And his love never, ever runs dry. It is never depleted. It never ends for you. Every morning his mercies are there for you afresh. Hallelujah. Take hold of them, they are yours, through Jesus Christ our Lord
Prayer
Father, thank You that You are the God of mercies. That You show us the depth of Your compassion for us on the cross. Help us to lay hold afresh on You. In Jesus' name, we pray. Amen.
Song
One of the songs I often sing when I meet afresh with the Lord in the mornings are these verses set to music by Edith McNeill.[14] Why don't you let these words refresh you right now as you listen to it on YouTube.
---
Copyright © 2023, Ralph F. Wilson. <pastor

joyfulheart.com> All rights reserved. A single copy of this article is free. Do not put this on a website. See legal, copyright, and reprint information.
Discipleship for New Believers
In-depth Bible study books
You can purchase one of Dr. Wilson's complete Bible studies in PDF, Kindle, or paperback format.


My books are available in paperback and Kindle from Amazon.