Christian Articles Archive
My El Capitan
by Dr. Ralph F. Wilson

Free E-mail Bible Study

Jesus' Parables for Disciples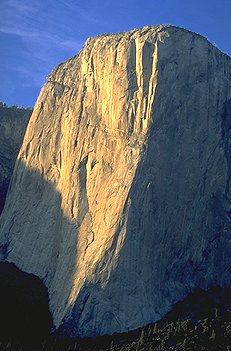 Many parks have beautiful trees and rivers, mountains and waterfalls. But when it comes to the sheer scale of rock — solid mass of rock — Yosemite National Park in California's Sierra Nevada has no peer.
There's no way to capture on film the majesty and massiveness of El Capitan. The photo comes back on a flimsy, two-dimensional 4" x 6" piece of paper. How can it convey this granite monolith that towers straight up to a height of 3,593 feet above the valley floor? Huge, gigantic, enormous, immense. Words are inadequate to express my awe. Climbers who "conquer" this granite precipice are mere specks on its face, visible only through powerful binoculars.
When I look up at the power of El Capitan, the words of David, Israel's warrior-king, echo in my mind:
"The Lord is my Rock,
my Fortress and my Deliverer;
my God is my Rock, in whom I take refuge,
my Shield and the Horn of my salvation.
He is my Stronghold,
my Refuge and my Savior,
from violent men you save me."1
David was no coward, mind you. As a teenager he challenged and defeated the giant Goliath with a simple shepherd's sling and a handful of stones from the brook. He was known as a soldier's soldier, a leader of warriors. "Saul has slain his thousands, and David his ten thousands," went a popular song of the day.
But at the time, Saul was king and David a mere shepherd of humble birth. The greater a reputation David gained in battle, the more Saul hated him. When Saul's jealousy grew insatiable, he tried to pin David to the palace wall with a spear. David fled.
He fled to the remote cliffs and crags and ridges of his homeland in Judah's hill-country. There he hid amidst this mountain fastness and called on God.
"From the ends of the earth I call to You,
I call as my heart grows faint;
lead me to the Rock that is higher than I."2
"Be my Rock of Refuge,
to which I can always go;
give the command to save me,
for You are my Rock and my Fortress."3
Some would have us ashamed of David as weakling, cowering in fear for his life, using God as an escape, a crutch. Here the glorious hero hides!
But as he hides he grows in strength. His God is like a Rock, he recalls, strong, immovable, enduring, eternal. He takes refuge in God until the time is right to step out in God's strength and claim his destiny.
Have you ever felt utterly devastated? Wiped out? Destroyed? David's God wants to be your Rock, too. He wants to hide you in his strength, and exchange your fear for the comfort and confidence and power of His Presence. If you are able flee to an El Capitan for safety when you are hunted and afraid, what is the shame in that? God is your Rock, your refuge, your fortress, the One who will rescue you — or "save you," as the Bible terms it.
If you are struggling, why don't you go to God right now with this kind of simple prayer of David's:
"Turn Your ear to me,
come quickly to my rescue;
be my Rock of Refuge,
a strong Fortress to save me.
Since You are my Rock and my Fortress,
for the sake of Your name
lead and guide me."4
---
1. 2 Samuel 22:2-3
2. Psalm 61:2
3. Psalm 71:3
4. Psalm 31:2-3

Photos copyright © 1995 by Italian climber-photographer Guillaume Dargaud. All rights reserved. Used by permission. See more on his website at
http://rome.atmos.colostate.edu/Climbing/Yosemite.html
Three other of Dargaud's photos of El Capitan to give you a sense of its size:
El Capitan by moonlight
,
under the Great Roof
, and the
Triple Direct route
up its face.
Copyright © 2023, Ralph F. Wilson. <pastor

joyfulheart.com> All rights reserved. A single copy of this article is free. Do not put this on a website. See legal, copyright, and reprint information.
Discipleship for New Believers
In-depth Bible study books
You can purchase one of Dr. Wilson's complete Bible studies in PDF, Kindle, or paperback format.


My books are available in paperback and Kindle from Amazon.