Christian Articles Archive
Achin', Breakin' Valentine
by Dr. Ralph F. Wilson

Free E-mail Bible Study

1 & 2 Timothy and Titus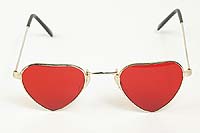 The mechanic's girlfriend, her belly swollen with a baby a few weeks away from birth, sits the car waiting for him to finish up with me, his last customer, and take her home. Just then an attractive young woman drives up and the mechanic walks over to her.
Smiling, she hands him a red envelope, obviously a Valentine. Who is she? I wonder. A neighbor? A good friend? She obviously has affection for him. The mechanic comes back and mutters to me, "My girlfriend is looking daggers at her. That was my ex-wife."
She still loves him. I can see that.
I think of another Lover bringing a message to one estranged. This Valentine isn't written with pen and paper but with lacerated flesh and oozing blood. The inscription on the outside reads, "For God so loved the world that He gave His only begotten Son, that whosoever believes in Him should not perish but have everlasting life."
"Thanks," we mumble embarrassedly, as we glance over to see if our "ex" has spotted our current distraction close at hand. "That was real nice of you," we say.
We read the words inside: "God demonstrates his own love for us in this: While we were still sinners, Christ died for us." It is love that wrote the Valentine. Pained but giving love. Forgiving love. Love filled with hurt, but love nevertheless.
I watch the young woman drive off, still smiling. But behind her smile, I'm sure, is a lump in her throat. I wonder if she'll give him another card next Valentine's Day. I wouldn't bet against it.
Copyright © 2023, Ralph F. Wilson. <pastor

joyfulheart.com> All rights reserved. A single copy of this article is free. Do not put this on a website. See legal, copyright, and reprint information.
Discipleship for New Believers
In-depth Bible study books
You can purchase one of Dr. Wilson's complete Bible studies in PDF, Kindle, or paperback format -- currently 48 books in the JesusWalk Bible Study Series.
Old Testament
Gospels
Acts
Pauline Epistles
General Epistles
Revelation
Topical
Grace: Favor for the Undeserving


My books are available in paperback and Kindle from Amazon.