Artwork and Paintings of the Day of Pentecost
collected by Dr. Ralph F. Wilson

Free E-mail Bible Study

1 & 2 Timothy and Titus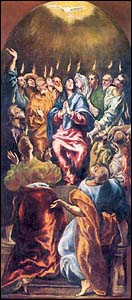 El Greco, The Pentecost (1596-1600), Oil on canvas, 275 x 127 cm, Museo del Prado, Madrid. Larger image.
Descent of the Holy Spirit paintings
Historically, many of the pictures in this category tend to emphasize the presence of the Virgin Mary on the Day of Pentecost. There are many, many depictions, some in stained glass, since this is a major theme of art, especially in churches. This is just a small selection.
*El Greco, The Pentecost (1596-1600), Oil on canvas, 275 x 127 cm, Museo del Prado, Madrid

Vicente Juan Macip called

Juan de Juanes (Spanish painter, 1510-1579), Pentecost, oil on panel, acquired by Bob Jones University Museum and Gallery in 1954. Another.
Fernando Gallego, The Pentecost
Duccio di Buoninsegna, Pentecost (1308) Tempera on wood, Museo dell' Opera del Duomo, Siena
Peter Paul Reubens, Descent of the Holy Sprit (1619), Neuburg Palace, Neuburg State Gallery, Germany
Westfälischer Altar (ca. 1370/80)
*Joseph Ignaz Mildorfer (Swiss painter, 1719-1775), "Pentecost" (1750s), oil on canvas, 55x33 cm, Hungarian National Gallery, Budapest. Another.
Jean II Restout (French Neoclassical painter (1692-1768), Pentecost (1732) oil on canvas, Musee du Louvre, Paris.
Westfälischen Masters, Pentecost, Osnabrücker Altar (1370-80).
Contemporary artists

Emil Nolde (1867-1956), Pentecost (Pfingsten) (1909), oil on canvas, 87 x 107 cm, Nationalgalerie SPMK, Berlin.

Charles Ndege, Tanzania, Feast of Pentecost
Pentecost, Guildford Cathedral, contemporary artist.
The Descent of the Holy Spirit, Conception Abbey, Conception, MO.
Pentecost Quilt, Linda Schmidt, contemporary quilter and textile artist.
Pentecost, Sawai Chinnawong, Thailand. (Asianchristianart.org)
Pentecost, Solomon Raj, India
Pentecost Altar Cloth, Glouster
Pentecost, Coptic Icon
Emil Nolde (1867-1956), Pentecost (Pfingsten) (1909), oil on canvas, 87 x 107 cm, Nationalgalerie SPMK, Berlin.
Estelle Louisa Canziani (1887-1964), Pentecost (1905-1936), Watercolor, Leicester Galleries. Striking!
István Dorfmeister, *Pentecost (1782)
Adel Nassief, The Holy Spirit* (1991), fresco, St. Mary Church (Coptic Greek Orthodox Netherlands), Amsterdam.
Unknown artist, *Pentecost, ChristiansUnite Christian Clip Art. No artist information.
Uniknown artist, *Pentecost.
Unknown artist, Pentecost with the women disciples included when the tongues of fire descend on all the disciples.
Nora Kelly, Pentecost.
Elizabeth Wang (British Catholic illustrator,1942-), Radiant Light. Many wonderful illustrations. .
Rodney Winfield, *Descent of the Holy Sprit, Mosaic, Ravenna Mosaic Studios. Shrine of our Lady of the Snows, near Collinsvile, Illinois.
Illuminated Manuscripts
Les Très Riches Heures du duc de Berry, Folio 79r - Pentecost. the Musée Condé, Chantilly. Illuminated manuscript.
Stained Glass Windows

Bernini, Alabaster window from Cathedra Petri (1647-53), St. Peter's Basilica, Vatican

Gian Lorenzo Bernini (1698-1759), Cathedra Petri or Chair of St. Peter, behind the high altar in St. Peter's Basilica, Vatican. Alabaster window shows the Holy Spirit as a dove. Photo shows whole Chair of St. Peter. Wikipedia.
Pentecost, Trinity Lutheran Church, Fort Bragg, CA
Pentecost, Grace Lutheran Church, Jersey City, NJ
Pentecost (1990), Trinity Presbyterian, Dallas, TX, by John Kebrle.
Pentecost (2000), Prince of Peace Lutheran Church, Latrobe, PA.
Pentecost Window, St. Mary Immaculate (Catholic) Church, Plainfield, IL. 12.0' diameter.
Betti Pettinati Longinotti, Pentecost window (2003). 6' diameter. Immaculate Heart of Mary Church, High Point, NC
Sent Forth, Outreach Center, Concordia College, Moorhead, MN, by David J. Hetland
Pentecost, Cathedral, Catholic Diocese of Johannesburg.
Pentecost, St. Francis DeSales Cathedral, Baker City, OR
Pentecost window, St. Joseph's College, University of Alberta.
Pentecost window, St. Bridget, Loves Park, IL
Descent of the Holy Spirit, East Window, St. Peter and Paul, East Harling
*Descent of the Holy Spirit (ca. 1400), Northern Renaissance, not location given.
Peter Preaching
Collections
Pentecost — stories, articles, sermon helps, and inspiration about the Holy Spirit and the Day of Pentecost
Christian Art and Paintings: Abraham Art | Agnus Dei Art | Angel Art | Annunciation Art | Celtic Stone Cross Art | Christian Symbols and Art | Christmas Art | David | Easter Art | Elijah | Passion of Christ by Tissot | Gideon | Hebrew-Jewish Art | Holy Week Art | Jacob | Jesus' Ministry Art | Jesus' Teaching Art | Jesus Portraits and Art | John the Baptist | John the Apostle | Lamb of God Art | Last Supper Art | Madonna & Child Art | Moses and the Exodus | Names of God Art | OT Misc Art | Psalms Art | Palm Sunday Art | Paul Art and Paintings | Day of Pentecost Art | Peter Art and Paintings | Prayer Art | Resurrection Art | Revelation Art | Solomon |Thanksgiving and Pilgrims Art | Timothy Art and Paintings
Copyright of artwork. Much, but not all, of the artwork linked to on this site is in the public domain worldwide due to the date of death of its author (if it is was published outside of the U.S. and the author has been dead for over 70 years), or due to its date of publication (if it was first made public in the U.S. before 1923), at least in the United States (see Bridgeman Art Library v. Corel Corp.), in Germany, and in many other countries.
Copyright © 2023, Ralph F. Wilson. <pastor

joyfulheart.com> All rights reserved. A single copy of this article is free. Do not put this on a website. See legal, copyright, and reprint information.
Discipleship for New Believers
In-depth Bible study books
You can purchase one of Dr. Wilson's complete Bible studies in PDF, Kindle, or paperback format -- currently 48 books in the JesusWalk Bible Study Series.
Old Testament
Gospels
Acts
Pauline Epistles
General Epistles
Revelation
Topical
Grace: Favor for the Undeserving


My books are available in paperback and Kindle from Amazon.