Christian Articles Archive
Angels and Annunciation Paintings and Art
Collected by Dr. Ralph F. Wilson

Free E-mail Bible Study

1 & 2 Timothy and Titus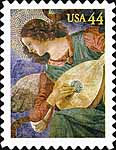 On Oct 21, 2010, the Postal Service issued an Angel with Lute stamp, designated a special stamp, not an official Christmas stamp. Detail of a fresco by Melozzo da Forli (1438-1494), Room IV, Vatican Pinacoteca, Rome.
This site contains several pages with links to paintings and artwork with a Christmas theme:
| | |
| --- | --- |
| Fra Angelico (Florentine painter, c. 1400-1455), "The Annunciation" (c. 1437), Fresco, Monastery of San Marco, Florence. Fresco, 230 x 321 cm. Larger image. | |
Raphael
The Freeing of St. Peter (1514). Fresco. Vaticano, Stanza di Eliodoro, Rome. Detail, full image.
Detail of Angels at the bottom of The Sistine Madonna, 1513-1514, Gemäldegalerie, Dresden. Perhaps most popular depiction of innocent, cherubic children as angels.
Fra Angelico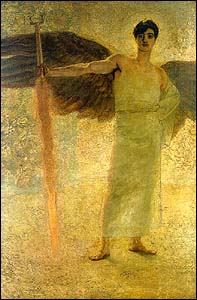 Franz von Stuck (German Symbolist painter and sculptor, 1863-1928), The Guardian of Paradise (1889), Museum Villa Stuck, Munich
Antony Van Dyck, The Lamentation (1618-20), oil on canvas, Art History Museum, Vienna. Detail of churb weeping, holding one of the crucifixion nails now removed. Another.
William-Adolphe Bouguereau (French artist, 1825-1905), did a series of famous paints with on cupid wearing wings, often confused with angels, including the widely reproduced "The First Kiss" (1873, Le Premier Baiser, two angels kissing), "Cupid" Cupidon) (1875), "Amour A Laffut" (). Actual religious paintings include: Song of the Angels" (1881), oil on canvas, 84x60", Museum at Forest Lawn Memorial Park, Glendale, CA. Shows angels serenading the Mother and Child. Another.
Sir Edward Coley Burne-Jones (British Pre-Raphaelite painter,1833-1898)
J.J. Tissot, Soul of the Penitent Thief Being Taken to Paradise (1897), watercolor.
Guarding the Garden of Eden
Franz von Stuck (German Symbolist, 1863-1928

),

The Guardian of Paradise (1889), Museum Villa Stuck, Munich
Benjamin West (American, 1738-1820), The Expulsion of Adam and Eve from Paradise (1791), oil on canvas, 186.8 x 278.1. National Gallery of Art, Washington, DC. Dramatic angel urging them away with outstretched hands. Snake is leaving the Garden ahead of them.
Collections
Annunciation Paintings Show the Angel Gabriel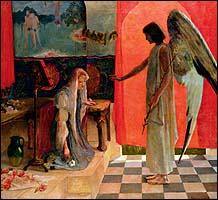 Rupert Charles Wolston Bunny (Australian painter, 1864-1947), The Annunciation (1893). Larger image.
St. Jerome
Simon Vouet (French, 1590-1649), St. Jerome and the Angel (c. 1625), oil on canvas 144.8 x 179.8. National Gallery of Art, Washington, DC. White-winged angel holding trumpet.
Resurrection
Pieter Pauwel Rubens, The Resurrection of Christ (1611-12), Oil on panel, 138 x 98 cm (centre panel), 136 x 40 cm (wings), O.-L. Vrouwekathedraal, Antwerp. Pair of angels.
J.J. Tissot, Angel of the Lord on the Stone of the Sepulchre (1897), Oleograph. In Clipart.com.
Guardian Angel
Gideon and the Angel of the Lord
Last Judgment
Christian Art and Paintings: Abraham Art | Agnus Dei Art | Angel Art | Annunciation Art | Celtic Stone Cross Art | Christian Symbols and Art | Christmas Art | David | Easter Art | Elijah | Passion of Christ by Tissot | Gideon | Hebrew-Jewish Art | Holy Week Art | Jacob | Jesus' Ministry Art | Jesus' Teaching Art | Jesus Portraits and Art | John the Baptist | John the Apostle | Lamb of God Art | Last Supper Art | Madonna & Child Art | Moses and the Exodus | Names of God Art | OT Misc Art | Psalms Art | Palm Sunday Art | Paul Art and Paintings | Day of Pentecost Art | Peter Art and Paintings | Prayer Art | Resurrection Art | Revelation Art | Solomon |Thanksgiving and Pilgrims Art | Timothy Art and Paintings
Copyright of artwork. Much, but not all, of the artwork linked to on this site is in the public domain worldwide due to the date of death of its author (if it is was published outside of the U.S. and the author has been dead for over 70 years), or due to its date of publication (if it was first made public in the U.S. before 1923), at least in the United States (see Bridgeman Art Library v. Corel Corp.), in Germany, and in many other countries.
Copyright © 2023, Ralph F. Wilson. <pastor

joyfulheart.com> All rights reserved. A single copy of this article is free. Do not put this on a website. See legal, copyright, and reprint information.
Discipleship for New Believers
In-depth Bible study books
You can purchase one of Dr. Wilson's complete Bible studies in PDF, Kindle, or paperback format -- currently 48 books in the JesusWalk Bible Study Series.
Old Testament
Gospels
Acts
Pauline Epistles
General Epistles
Revelation
Topical
Grace: Favor for the Undeserving


My books are available in paperback and Kindle from Amazon.