Christian Articles Archive
Easter and Holy Week Artwork
collected by Dr. Ralph F. Wilson

Free E-mail Bible Study

Grace: Favor for the Undeserving
Easter, Good Friday, and Holy Week Artwork (below)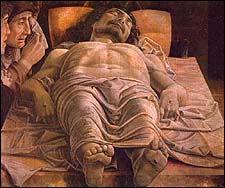 Andea Mantegna (Early Rennaisance Italian painter, 1431-1506), "The Lamentation over the Dead Christ" (c. 1490), Tempera on canvas, 68 x 81 cm Pinacoteca di Brera, Milan. Larger image.
Felix Avalos (sculptor)
Last Supper
Gethsamane
Warner E. Sallman (1892-1968)

,

Christ in Gethsemane

(1940-50)
James C. Christensen (1942- ), Gethsemane (contemporary), with angel behind Jesus, kneeling in agony.
Julius Schnoor von Carolsfeld, Jesus in Gethsemane, woodcut
Aert de Gelder. Christ in the Garden of Gethsemane. Oil on wood. New York, collection of Richard L. Feigen
Carl Bloch, In the Garden of Gethsemane, Det Nationalhistoriske Museum, Frederiksborg, Denmark. Another. Large.
Harry Anderson, Jesus Praying in Gethsemane (contemporary)
Heinrich Hofmann (German painter, 1824-1902), Christ in Gethsemane
E. Goodman, Christ in Gethsemane (after Hofmann)
Parisi, Jesus Praying (contemporary)

Gerard (Gerrit) van Honthorst (1590–1656), Christ in the Garden of Gethsemane, Oil on canvas, The Hermitage. With angel looking on.

William Blake, The Agony in the Garden (c. 1799-1800). Tate Collection. Tempera on copper.

El Greco, Agony in the Garden (c. 1588), oil on canvas, Toledo Museum of Art, Toledo, OH.

Hans Leonhard Schaufelein, Agony in the Garden (1516), Limewood. Alte Pinakothek, Munich.

Domenico Tiepolo (1727–1804), Jesus in the Garden of Gethsemane: The Second Prayer (c. 1786-1790). Pen and wash, Private Indiana Collection on loan to the Indiana University Art Museum. Beautiful sepia sketch, captures the intensity of the occasion.
Trial and Mocking
Crucifixion
Collection at Wikipedia of crucifixion paintings
Antony Van Dyck (Flemish painter, 1599-1641)
Gerard (Gerrit) van Honthorst (1590–1656)
Carl Heinrich Bloch (Danish painter, 1834-1890). Most paintings in National Historic Museum, Friederiksborg Palace, Hillerød, Denmark.
Nikolaï Gay (1831-1894), Il Calvario detto anche Golgota; Crocifissione (c. 1892), Olio su tela, 278 x 223 cm, Museo d'Orsay.
Franz von Stuck (German painter and sculptor, Symbolist, 1863-1928)
Crucifixion Kreuzigung Christi (1913), Egg tempera on canvas, Museum der bildenden Kunste, Leipzig, Germany. Another.
Crucifixion (1892), Oil on canvas, Private collection
Matthias Grünewald (German artist, 1480-1528)
The Crucifixion (c. 1515), Oil on wood, 269 x 307 cm, Musée d'Unterlinden, Colmar
Die Kreuzigung Christi (1523-1524), Tauberbischofsheimer Altar, 193 × 151 cm. Kunsthalle, Karlsruhe, Germany.
Francisco de Zurbarán (1598-1664), The Crucifixion (1627), oil on canvas, 290 x 168 cm, Art Institute Museum, Chicago.
Diego Velázquez, Crucifixion of Christ (1632). High resolution available.
Marc Chagall, White Crucifixion (1938), oil on canvas, Art Institute Museum, Chicago.
Kathryn A. Barnes, The Crucifixion (2011), contemporary Michigan artist, oils on canvas.
Crucifix above the doors of St. Peter's Church, Chicago (Franciscian). A giant crucifix by Latvian sculptor Arvid Strauss called "Christ of the Loop" fills the gothic arch in the center of the main facade. Another.
Thomas Blackshear II (contemporary African American painter and sculptor), Forgiven (1997). Striking picture of Jesus holding up a man, wracked with guilt, holding in his hands a mallet and nail, that nailed Christ to the cross. Forgiveness.
William Adolphe Bouguereau (1825-1905), "Compassion!" (1897), Man carrying cross hugging crucified, dead Jesus. Striking image.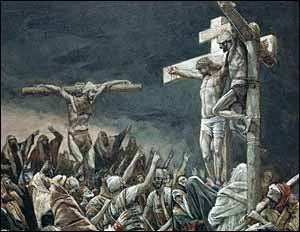 James J. Tissot, detail of "The Pardoning of the Penitent Thief" (1896). Larger image.
James Tissot (French, 1836-1902). What Our Savior Saw from the Cross, from The Life of Christ, 1886-96. Gouache on paper, 9 13/16 x 9 1/16 in. (24.9 x 23 cm). Brooklyn Museum.
Hans Bauldung Grien (Austrian painter, 1484/85-1545)
"Crucifixion" (1512, right), Linden panel, 152 x 104 cm, Staatliche Museen, Berlin.
"Adam and Christ," a composite by the Ralph F. Wilson of two paintings by "Adam" (1520-23, left), Museum of Fine Arts, Budapest (Szepmuveseti Muzeum); and "Crucifixion" (1512, right).
Thief on the Cross
Entombment and Pieta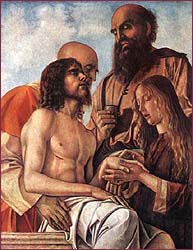 Giovanni Bellini (Venetian painter,1426-1516), Pietà, oil on panel, 106x84cm, Pinacoteca, Vatican. Larger image.
Resurrection
Emmaus
Caravaggio, Supper at Emmaus (ca. 1601-2), Oil on canvas, 54 3/4 x 76 3/4 in., National Gallery, London. Another.
Rembrandt. The Supper at Emmaus (1648), Oil on wood. Louvre, Paris, France
Rembrandt. The Pilgrims at Emmaus. Oil on canvas. Louvre, Paris, France
Abraham Bloemaert, The Emmaus Disciples (1622), Oil on wood, 145 x 215,5 cm, Musées Royaux des Beaux-Arts, Brussels. Very realistic depiction with dramatic lighting.

Pascal-Adolphe-Jean Dagnan-Bouvert (French Naturalist painter,1852-1929), Christ and the Disciples at Emmaus, oil on canvas, Carnegie Museum of Art, Pittsburgh

Robert Zünd (Swiss painter, 1827-1909), "Way to Emmaus" ("Der Gang nach Emmaus," 1877), 119 x 158 cm, Kunstmuseum St. Gallen. Jesus walking in a wood with disciples.

Carl Heinrich Bloch, Christ in Emmaus
Magdalen
Georges de La Tour (French, 1593-1652)
The Repentant Magdalen (c. 1640), oil on canvas, 113x92.7. National Gallery of Art, Washington, DC. Thoughtful Mary with her left hand on a skull which shields the candle that illuminates her face. Very beautiful. Another.
The Penitent Magdalen (1640), Metropolitan Museum of Art, NYC.
Collections
Christian Art and Paintings: Abraham Art | Agnus Dei Art | Angel Art | Annunciation Art | Celtic Stone Cross Art | Christian Symbols and Art | Christmas Art | David | Easter Art | Elijah | Passion of Christ by Tissot | Hebrew-Jewish Art | Holy Week Art | Jacob | Jesus' Ministry Art | Jesus' Teaching Art | Jesus Portraits and Art | John the Baptist | John the Apostle | Lamb of God Art | Last Supper Art | Madonna & Child Art | Moses and the Exodus | Names of God Art | OT Misc Art | Psalms Art | Palm Sunday Art | Paul Art and Paintings | Day of Pentecost Art | Peter Art and Paintings | Prayer Art | Resurrection Art | Revelation Art | Thanksgiving and Pilgrims Art | Timothy Art and Paintings
Copyright of artwork. Much, but not all, of the artwork linked to on this site is in the public domain worldwide due to the date of death of its author (if it is was published outside of the U.S. and the author has been dead for over 70 years), or due to its date of publication (if it was first made public in the U.S. before 1923), at least in the United States (see Bridgeman Art Library v. Corel Corp.), in Germany, and in many other countries.
Copyright © 2022, Ralph F. Wilson. <pastor

joyfulheart.com> All rights reserved. A single copy of this article is free. Do not put this on a website. See legal, copyright, and reprint information.
Discipleship for New Believers
In-depth Bible study books
You can purchase one of Dr. Wilson's complete Bible studies in PDF, Kindle, or paperback format.


My books are available in paperback and Kindle from Amazon.