Meet Some East African Pastors
Free E-mail Bible Study

1 & 2 Timothy and Titus
On Wednesday, September 26, 2007 I interviewed several pastors so you could get acquainted with them, with the help of Pastor Chriss Barasa in translation. The recordings have been edited for time, cutting out some of the Swahili dialog, but once you listen to the recordings, I think you'll catch the spirit of these people of God.
| | |
| --- | --- |
| Pastor Simon Kosima (6:56) is an older, respected pastor in Eldoret. You'll enjoy his testimony and joy in the Lord, even though you may not catch every word. | |
| Pastor Hezekiah Ekemana, Rwanda (3:42) just arrived today for the conference. He shares how he found Christ and describes his church. | |
| Pastor Fredrick Simaiu, Eldoret (6:18) found Christ at age 18 when he was in darkness. He was physically healed and became a Christian at the same time. The next year at age 19 he began a church in Eldoret. | |
| Pastor Charles Kuulo, Kitale, Kenya (4:42), of the Glorious Covenant Church, a congregation that is now one year old. | |
| Pastor Peter Simwa, Eldoret (9:23), of New Life in Jesus church, Huruma Estate, Eldoret, founded in 1999. | |
| Evangelist Rona Nakasibwe (4:48) from Kampala, Uganda, is an evangelist and church planter. She spoke at the conference during the revival meetings following the daily teaching sessions. | |
| Pastor Sebastian Ombima (10:28) is director of World Revival Evangelistic Ministries in Eldoret. He is chairman of the organizing committee for the conference. His church sponsors an orphanage in Eldoret that houses 34 children whose parents died of HIV/AIDS. | |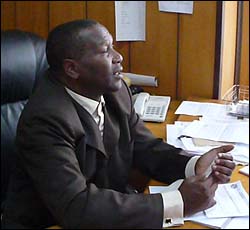 On Tuesday afternoon, September 25, I joined a delegation of pastors granted an audience with Jonah K.T. Maiyo, Mayor of Eldoret. We were ushered into his office where I was introduced to the Council Members who had gathered. After exchanging some pleasantries with Mayor Maiyo, I asked if I could pray for him. You can hear that prayer.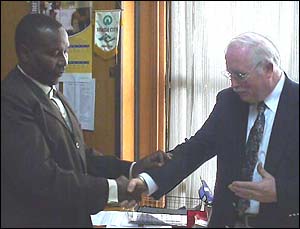 Copyright © 2023, Ralph F. Wilson. <pastor

joyfulheart.com> All rights reserved. A single copy of this article is free. Do not put this on a website. See legal, copyright, and reprint information.
Discipleship for New Believers
In-depth Bible study books
You can purchase one of Dr. Wilson's complete Bible studies in PDF, Kindle, or paperback format -- currently 48 books in the JesusWalk Bible Study Series.
Old Testament
Gospels
Acts
Pauline Epistles
General Epistles
Revelation
Topical
Grace: Favor for the Undeserving


My books are available in paperback and Kindle from Amazon.