Christian Articles Archive
Leaving the Nest
by Dr. Ralph F. Wilson

Free E-mail Bible Study

1 & 2 Timothy and Titus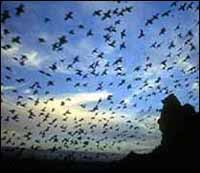 My dream left me depressed. All night long, it seemed, I had tried to "scrounge" a few personal possessions before I left home for good.
The dream had been prompted by a letter from my parents when I was in the army, decades ago, that they were moving into a very small home and had to sell all the furniture, giving away boxes of mementos. Awaking I felt cut off from my boyhood. My stomach knotted up, knowing I could never go home.
I got up for an early morning walk, praying and turning these thoughts over in my mind, trying to be mature about it all, but instead just choking back tears. I called out, "Lord, help me."
My attention was captured by a long line of large birds which had begun to wing their way overhead. At first I assumed it was just a small flock, but they kept on coming without a break.
When I reached a vantage point, the line of birds stretched as far as I could see. I held up my hands to try to block out a hundred at a time with my fingers in an attempt to estimate the total number. One hundred seemed insignificant compared to the unending migration. Ten thousand? More like fifty thousand.
As I started back, I thought about how many nests these birds had left. Yet God takes care of them. They fly in "faith" for hundreds and thousands of miles, motivated and guided unerringly by their God-given instinct. I had my answer. The joy of the Lord broke over me. I shouted for joy in the morning stillness.
Certainly, I couldn't go home any more — that hadn't changed -- but God had met the need of my heart that day. It was like He was saying that we must all at some time leave our security and fly, trusting in His leadership. He who guides ten thousands from their nests to new homes sustains me as well.
"Look at the birds of the air ...
Are you not much more valuable than they? ...
O you of little faith" (Matthew 6:26, 30; NIV).
I opened the door of my home with an old hymn flooding through my heart:
"I know whom I have believed,
and am persuaded that He is able
to keep that which I've committed
unto Him against that day."
Copyright © 2023, Ralph F. Wilson. <pastor

joyfulheart.com> All rights reserved. A single copy of this article is free. Do not put this on a website. See legal, copyright, and reprint information.
Discipleship for New Believers
In-depth Bible study books
You can purchase one of Dr. Wilson's complete Bible studies in PDF, Kindle, or paperback format -- currently 48 books in the JesusWalk Bible Study Series.
Old Testament
Gospels
Acts
Pauline Epistles
General Epistles
Revelation
Topical
Grace: Favor for the Undeserving


My books are available in paperback and Kindle from Amazon.