Christian Articles Archive
Ireland's Church Planter--St. Patrick
by Dr. Ralph F. Wilson

Free E-mail Bible Study

Grace: Favor for the Undeserving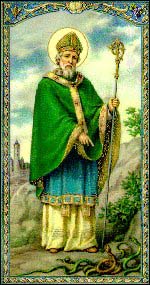 Who was St. Patrick? You scratch your head. He drove the snakes out of Ireland? Wrong! He won a shamrock-plucking contest? Come on! He wore green before it was fashionable? Give me a break! Would the real St. Patrick please stand up?
Patrick was born on the west coast of Britain about 360 A.D. At the age of 16 he was kidnapped by Irish pirates and sold as a slave into the service of a local king. On a rainy hillside tending sheep, he met the Lord and his faith was nurtured over the next several months. He escaped, but God called him to return to the emerald isle as a missionary.
At that time druid priests, deep into black magic and the occult, held the island's inhabitants in a lockgrip. Patrick challenged this demonic stronghold and won, but the victory was neither quick nor cheap. He was imprisoned for months at a time, his only respite from the stress of constant travel and hardship. Yet one after another, tiny kingdoms would finally allow Patrick to declare the good news of Jesus within their borders. He baptized tens of thousands. Hundreds of chapels were erected for the worship of Jesus all over Ireland.
Who was Patrick? A saint of God who gave his life to help people know Jesus by starting mission churches. St. Patrick might feel more comfortable at newly-planted church than even St. Peter's Basilica. After all, he was partial to the challenge and excitement of new churches.
You'll not find a drop of Irish whiskey after church, only punch and coffee, and no leprechauns magically set up the chairs on Sunday mornings, but if you love St. Patrick's Jesus, you're welcome to worship with fellow Christians in church this Sunday.
More on St. Patrick's Life, Prayers, and Legacy
Copyright © 2022, Ralph F. Wilson. <pastor

joyfulheart.com> All rights reserved. A single copy of this article is free. Do not put this on a website. See legal, copyright, and reprint information.
Discipleship for New Believers
In-depth Bible study books
You can purchase one of Dr. Wilson's complete Bible studies in PDF, Kindle, or paperback format.


My books are available in paperback and Kindle from Amazon.