Watching Holy Week Unfold
with paintings by French painter James Jacques Tissot (1836-1902)
Holy Week
Palm Sunday
Monday
Tuesday
Wednesday
Maundy Thursday
Last Supper
The Garden
Good Friday
Chief Priests
Pilate and Herod
Via Dolorosa
Crucifixion
Death
Burial
Easter Sunday
Resurrection
Appearances
Good Friday, Easter, and Holy Week articles and short stories
Jesus Appears before Pilate for the First Interview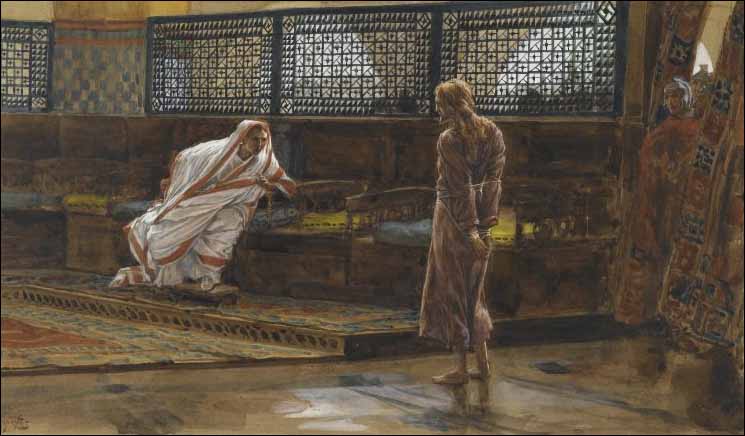 1
Then the whole assembly rose and led him off to Pilate.
2
And they began to accuse him, saying, "We have found this man subverting our nation. He opposes payment of taxes to Caesar and claims to be Christ, a king."
3 So Pilate asked Jesus, "Are you the king of the Jews?"
"Yes, it is as you say," Jesus replied.
4 Then Pilate announced to the chief priests and the crowd, "I find no basis for a charge against this man."
Luke 23:1-4
33 Pilate then went back inside the palace, summoned Jesus and asked him, "Are you the king of the Jews?"
34 "Is that your own idea," Jesus asked, "or did others talk to you about me?"
35 "Am I a Jew?" Pilate replied. "It was your people and your chief priests who handed you over to me. What is it you have done?"
36 Jesus said, "My kingdom is not of this world. If it were, my servants would fight to prevent my arrest by the Jews. But now my kingdom is from another place."
37 "You are a king, then!" said Pilate.
Jesus answered, "You are right in saying I am a king. In fact, for this reason I was born, and for this I came into the world, to testify to the truth. Everyone on the side of truth listens to me."
38 "What is truth?" Pilate asked.
With this he went out again to the Jews and said, "I find no basis for a charge against him.
John 18:33-38


Paintings by by James Jacques Tissot (French painter and illustrator, 1836-1902). Biography. Nearly all of Tissot's paintings of the Life of Christ (1884-1896) are rendered in opaque watercolor over graphite on gray wove paper and are owned by the Brooklyn Museum, New York.
Copyright © 1985-2012, Ralph F. Wilson. <pastor

joyfulheart.com> All rights reserved. A single copy of this article is free. Do not put this on a website. See legal, copyright, and reprint information.