Christian Articles Archive
Christian Art, Painting, and Sculpture from the Old and New Testaments of the Bible
collected by Dr. Ralph F. Wilson

Free E-mail Bible Study

Apostle Paul: Passionate Discipleship
Here are links to various collections of online artwork that center around the Old and New Testament.
Old Testament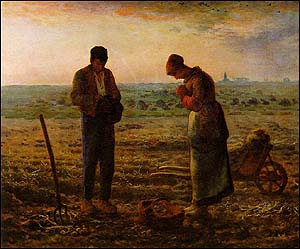 Jean-François Millet (French Realist Painter, 1814-1875), "The Angelus" (1857-59), oil on canvas, 55.5 x 66 cm, Musee d'Orsay, Paris. Larger image.
New Testament
Jesus' Life and Ministry
Other New Testament
Christian Topics
Christian Art and Paintings: Abraham Art | Agnus Dei Art | Angel Art | Annunciation Art | Celtic Stone Cross Art | Christian Symbols and Art | Christmas Art | David | Easter Art | Passion of Christ by Tissot | Hebrew-Jewish Art | Holy Week Art | Jacob | Jesus' Ministry Art | Jesus' Teaching Art | Jesus Portraits and Art | John the Baptist | John the Apostle | Lamb of God Art | Last Supper Art | Madonna & Child Art | Moses and the Exodus | Names of God Art | OT Misc Art | Psalms Art | Palm Sunday Art | Paul Art and Paintings | Day of Pentecost Art | Peter Art and Paintings | Prayer Art | Resurrection Art | Revelation Art | Thanksgiving and Pilgrims Art | Timothy Art and Paintings
Copyright of artwork. Much, but not all, of the artwork linked to on this site is in the public domain worldwide due to the date of death of its author (if it is was published outside of the U.S. and the author has been dead for over 70 years), or due to its date of publication (if it was first made public in the U.S. before 1923), at least in the United States (see Bridgeman Art Library v. Corel Corp.), in Germany, and in many other countries.
Copyright © 2020, Ralph F. Wilson. <pastor

joyfulheart.com> All rights reserved. A single copy of this article is free. Do not put this on a website. See legal, copyright, and reprint information.
Discipleship for New Believers
In-depth Bible study books
You can purchase one of Dr. Wilson's complete Bible studies in PDF, Kindle, or paperback format.

My books are available in paperback and Kindle from Amazon.